BY BETT KINYATTI
Whenever someone on the street stops me and asks me that elusive question about passion, about whether it pays, whether us chicks have more chances at exploring its possibilities than dudes, whether someone's age plays into the dynamics, I readily think of Newton Omondi.
You remember Newton Omondi, don't you? I've mentioned him here a couple of times. Newton is a tattoo artist living in Nyali with his family – his wife and their boy-girl twins. I interviewed Newton last year for a mini-series I ran here, 'Hunt like a hungry lioness'. I interviewed him and a bunch of other creatives. The story moved me so much I felt it needed a much bigger, much diverse national audience. So I pitched it to the Saturday Nation. It ran as the first story in would become my Crafts and Culture column.
Catch a snapshot here.
Newton is a decent chap. Laid back. Lives free, like a plant (his words, not mine). Always rocks t-shirts. Humble to a fault. His arms are swathed in tribal tattoos. Greying dreadlocks tied in a careless bun to the side of his head. He's a big deal in the local and international tattoo industry. Look him up on Instagram, @tattoosbynewton.
On the day we meet, Newton had been in Nanyuki for the weekend tattooing a never-ending queue of clients. He says, "These things always go like that – you set out to tattoo one guy and a hundred others show up."
Newton tells me he opted not to go to university. Immediately after high school, the letter to work in Barclays Card Centre came on the same day the admission letter for a degree in teaching at Moi University, did. He worked with Barclays for nine years. He said it was a tedious nine years. He never felt that he belonged. That he wasn't built for a suit-and-tie desk job. His was the classic case of a round peg in a square hole.
When he quit in 2003 – at 29 – Newton had neither parental nor spousal financial support. He didn't even have savings. He had his brother, though, who'd also quit his job at Kenya Railways so they could both freelance as tattoo artists. They moved in to a dinghy one-bedroom house in Uhuru estate, Nairobi. Rent was 1,500 bob a month. Newton says, "We didn't have furniture, we didn't have electricity, we didn't have money for food but we had freedom and many magazines and happiness."
They had a handful of clients they'd been tattooing using a traditional hand-poking Japanese technique called tebori. They soon crowd funded and imported their tattooing machines from US.
Newton relocated to Mombasa because he loves beach life. He lived with his pals for a month, set up his machine in the corner of an Indian man's beauty salon then moved out. He didn't have anywhere to go so he slept on the beach for a couple of days. His phone wasn't ringing. Defeated, he told himself this tattoo thing wasn't working out, so he hopped on to the next bus to Nairobi.
He was approaching Mtito Andei when the Indian man called and said, "There are clients here for you." He dropped off at Mtito, and took the next bus bound for Mombasa.
Newton hasn't looked back since.
Like I said, he's a big deal in the industry. He was the first black African at the 2012 Cape Town Tattoo Convention. He's been invited to Dartmouth College, US to talk about contemporary African tattooing. He's also travelled around Africa, Europe and US, tattooing.
Twenty-nineteen is Newton's 16th year of being a tattoo artist. He also turns 46. Newton's inkstand doesn't look like it's about to dry up any time soon.
Does passion pay? Yes, it does. Do chicks have more chances at exploring it to success, than dudes? Maybe, maybe not. Does age play into the dynamics? It doesn't, I don't know how else to say this but age really is just a number here.
I mean, look at Newton.
Newton settles his rent and children's school fees and supports the family's lifestyle from his tattooing. Even he can't believe it. I remember he said, "Sometimes I can't believe I'm making a living off tattoos. I sit like this and think that I chora chora people to get money for rent."
I sat down later and thought to myself, How did Newton do it?
I came up with these three laws. The laws that Newton followed to be able to do what he's doing with his tattoing.
Boys and girls, if you may?
Law #1: Newton worked hard.
Time gurus harp about working smart and not hard. You can't adopt this shortcut when it comes to your passion. Working smart means delegating, hiring help, or just plain slave driving.
Newton tirelessly put in the 10,000 hours required to move his skill from basic to master level. The Malcolm Gladwell hours.
Sixteen years in, and he's still putting in the hours.
Law #2: Newton showed up. Every day.
Doesn't matter if he had one client or a hundred clients, he showed up. He's still showing up. Newton approaches his art as if he's a thirsty and hungry beginner, eager to learn the tricks of the trade.
Law #3, and the most important: Newton mastered the art of business and the art of business.
Passion pursuers usually don't crack this. Newton poked his nose in the air and sniffed around for where to make money from tattooing, then he took himself and his machine there.
He travels because he loves to, but also because he must.
Long-read version of Newton's story is here >> Rolling stone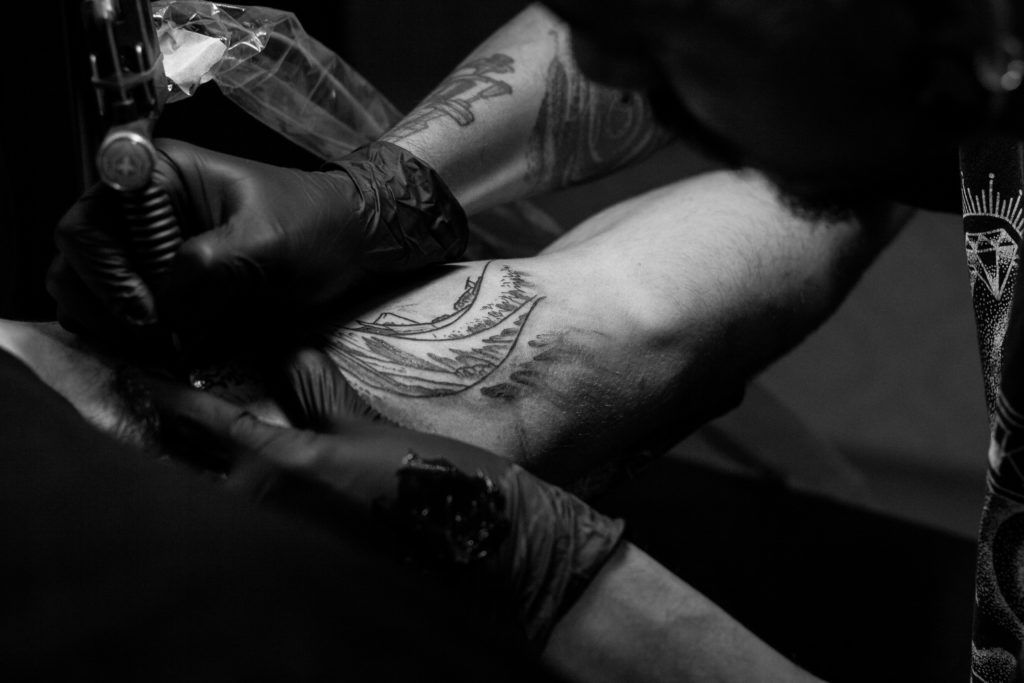 Days after I met Newton, I made up this silly game I called 'What would Newton do?'
As I said up there, Newton's a really laid-back chap. And his age – 46 – turns him into this wise old owl. He's a fine mix of maturity, level-headedness and a humility you don't see every day.
I remember when I called him to invite him to the interview, I didn't even think he'd say yes.
"I'm I speaking to Newton, Newton the tattoo artist?"
"Yes, you are."
"My name is Bett. I run an online brand called Craft It. I'm interviewing bunch of creatives, I'd like to speak to you about your craft of tatttoing. I've had a look at your Instagram profile, I really like what you're doing. It would be my honour to meet you for an interview." (In case you're wondering, that's Interview 101 – Butter up your subjects, corner them into saying yes. Find your pungi, use it to charm the snake out of the its pot)
"Oh, thanks. Thanks. Sorry, you said your brand is …?"
"Craft It. Craft. It." Woi. My little blog and little brand. I could tell he'd never heard of it. No surprise there. Even my siblings have never heard of it.
"Sawa. I'm in Nairobi but I'm headed to Nanyuki," he said. "Let's meet Monday in tao when I come back."
He couldn't make Monday, he called to apologise and reschedule to Tuesday.
We met on Tuesday at Java Kimathi Street. (He'd taken the 2NK shuttle.) He gave me his story while he had late lunchthen he left for the hotel and the next day, the story ran here, just as he was getting off the bus in Coasto.
I didn't send him the link story because –sigh, I'm embarrassed to say this – because I wasn't confident that he'd read it or like it. Let alone share it. Know how you stumble into an unfamiliar blog then you peek around to see what it's about then you leave, not even bother to bookmark the site incase you'd like to return later? Yeah, I imagined he'd do that. I don't know if he did, though – I never got around to asking him.
It was a crisis of confidence, honestly, happens often with any creative. It's an ego game mostly. An insecurity. I'm slowly getting over myself.
Anyway, when the story was ready to run in the newspaper, I called Newton and asked him if we could run it there. He said sawa. I asked him if he could send a picture for the story. He said sawa. No questions asked.
I woke up to his photo in my email.
I looked at it and it was too small in size for print. I called him and told him it can't work for the paper, that I needed something that's atleast 2MB, told him to take another one. I even gave him directions on how to pose and where. "Stand in front of a white wall with the sunlight hitting your directly, that way we get good light. Then cross your arms, and have someone snap the photo from your waist up."
He said sawa. Didn't fight with me.
In under 10 minutes, the photo was in my inbox, and off we went to the races.
So weeks after, whenever someone would knock on my door for help of whichever kind, directly or indirectly, I'd ask myself, What would Newton do?
Nanny Viv wants a ka-small ka-loan to set up a ka-farming ka-biashara for her Mum in Kitale. What would Newton do?
An old pal is struggling to find balance between being a new mum and new wife? What would Newton do?
One of the teachers in Muna's school has a premie daughter who eventually doesn't make it out of hospital? What would Newton do?
A young writer posts to his blog after a hiatus, the post is begging for a comment? What would Newton do?
My kid bro asks me to make the inconveniencing trip downtown to collect his shipment of majani from Kapkatet? What would Newton do?
Your spirit coaxes you to dive off a cliff because it's certain happiness lies at bottom of it? What would Newton do?
What would you do?
14