Kitchen Confidential: a miniseries about Kenyan chefs in Kenyan kitchens
#1. CHEF LESIAMON SEMPELE. EXECUTIVE CHEF AT NYAMA MAMA DELTA
AS TOLD TO BETT KINYATTI
I worked on a cruise ship for eight and half months. It was called Celebrity Solstice. 2,800 guests, 1,600 crew, 14 levels, 17 destinations. It was 2016. I was 24. It's one of those things you experience and never again. I remember when they extended my contract by two weeks, I was mad.
Given the chance, I'd cook for The Pope goat. I'd take the hardest part of the goat, slow cook it for hours, braise it. I don't know what I'd cook for Queen Elizabeth. I'd cook for President Uhuru his favourite meal.
I interned in an Italian restaurant called Pomodoro. It was my first experience in a professional kitchen, I was there for three months. I learned so much about Italian food and bread. Pomodoro is at The Village Market, it's owned by an Italian couple, Fausto and Lorenza. Italians are as passionate about food as Indians are. I went to Pomodoro because I wanted to find out if this is really what I wanted to do for the foreseeable – rather, unforeseeable – future. And it was – I wanted to do nothing else but cook.
The best dish I've had in a long time is Chef Rahul's dim sum. Chef Rahul is the executive chef at Pan-Asian Yao, it's part of the Good Earth Group Nyama Mama is. Pan-Asian Yao is in Gigiri. Dim sum has mushrooms and herbs. I've eaten dim sum before but not like this. It had parsley and some thyme in there, no there wasn't any thyme. I didn't tell him, 'This is the best shit I've ever had'. Hahaa. No no. We drank to it. I had a whiskey, Johnny Black, on the rocks, because there's no other way to have whiskey. He had a beer, a White Cap, he always has White Cap.
All my siblings are in the arts. One of my two sisters teaches music, my bro is in film. Our parents were always supportive of our pursuits, as long as you weren't wasting your time or theirs. Like, don't start this then drop it to get into something else.
I knew I wanted to cook from when I was five. My dad was a chef before he got into finance. That was back in… I want to say 1975? He worked at The Stanley, didn't want people to know he was a chef. I was told it was so bad that if he had a guest at the hotel, even if it was for two minutes, he'd change into his regular clothes, see the guest then change back into his chef clothes and return to the kitchen. My mum was a stay-at-home mum.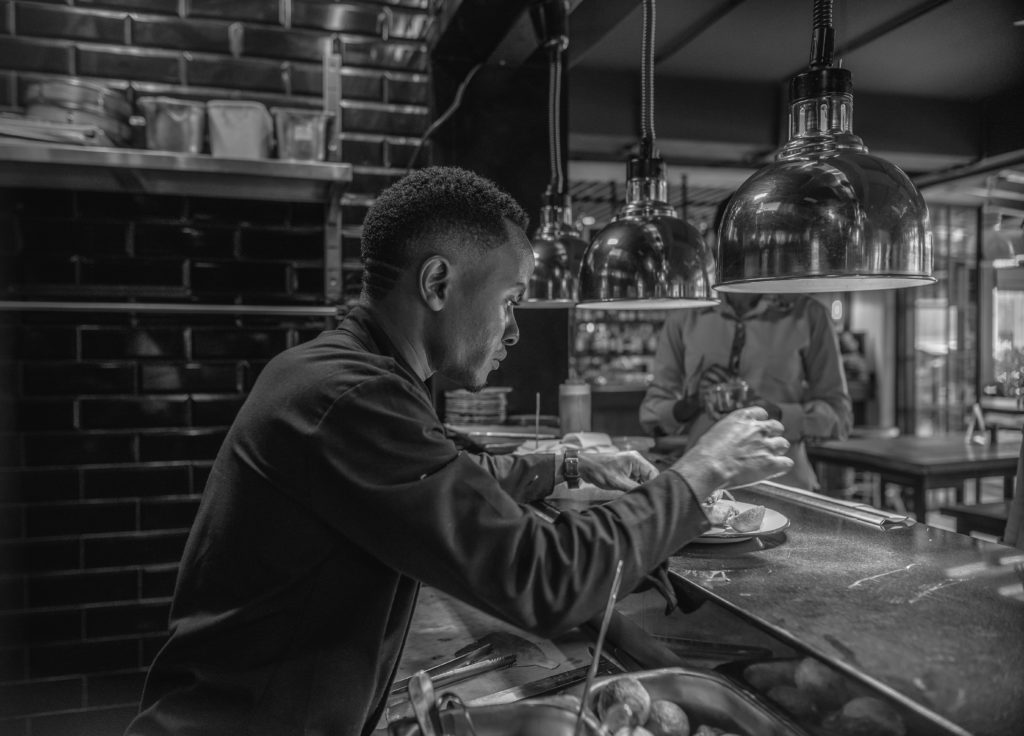 School for me was difficult and a waste of time. First, I can't sit still and focus for more than a few hours. I remember sitting in double chem class and wondering what a waste of time it was, like why couldn't we learn culinary instead? If I was taken to the kitchen and shown what chemistry is when water boils, I'd have paid more attention.
I enjoy whiskey, wine, food and coffee. Because they each have such strong distinct flavours.
I usually go to bed at 1 a.m. When I leave here after dinner service at 11, 11.30, I want a few hours to myself, to relax and unwind and savour my thoughts. Think about my life. Last night I was thinking about how vast the universe is. Last week Tuesday, after the Riverside attack, I thought about how short life is. I have a friend who works there. She'd called me that morning but I didn't pick up. She didn't text. But I knew I'd call her back later. When I heard about the attack and I called her, and she didn't pick up… [Exhales] She called me back at 9 p.m. to tell me they'd been evacuated. I regretted not calling her back earlier. I'm still regretful until this moment.
If I hadn't become a chef I'd have been a motor cross rider.
After Utalii and baking for a few months, I got into Top Chefs Culinary Institute. Oh no no, it's not in New York, it's hapa Westlands, on Muthithi Road. The school got me internship at the Fairmont in 2011. After Fairmont, I worked at The Tribe, then Sankara in 2014, then the cruise ship in 2015 then came to Nyama Mama in 2016. I've been here the longest because the owners – Ninaa and Jay Shanghavi – have challenged me to learn more about how to experience our Kenyan food culture.
I love the kitchen because I'm always solving a problem.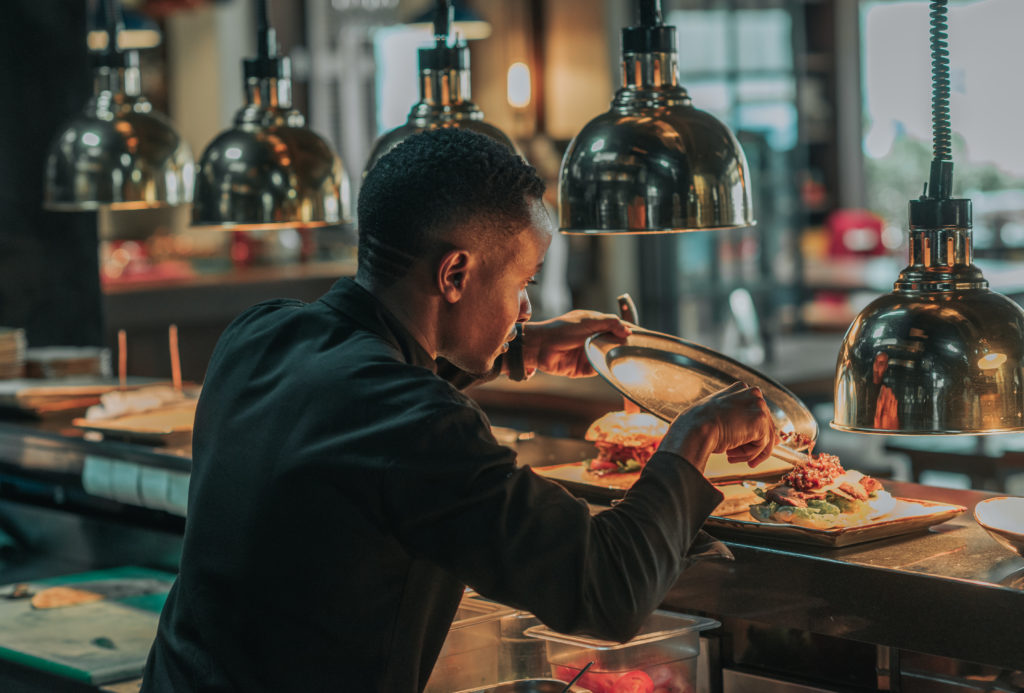 I bite all my fingernails like they're a snack.
Locals where I'd eat to experience the Kenyan cuisine? Hmm. I'd go to Njuguna's on Waiyaki Way, because it's been there for a long time. And the Pork Centre in Ruiru. And Crave Kitchen in Kikuyu, that guy is doing crazy things with food. I also like Hashmi's BBQ at Diamond Plaza.
If I were in death row and I'd have one last meal, I don't know what it'd be. I've never thought about it… No one has ever asked me these questions. You should have sent me some of these questions I think about them.
I have a growing tattoo on my right arm. I have the ace of spades, because it's the most powerful card on the deck. I have orchids, they're beautiful flowers and with the most variety, there are about 140 different varieties. Then I have a tribal tattoo that runs across my chest and collarbone and down my arm, I like it because it's an expression of art and unique to me. Then there's one of a lion. I like the lion, it's a national symbol that represents Kenya. And it's a fierce creature, I have the word 'fierceness' written down here somewhere.
Food isn't like an orgasm, it's better. An orgasm will last for this long [index fingers on the edge of the table, an inch apart] and you'll forget it. Food gives you the same feeling but you'll never forget it, food leaves you with a memory.
I saved up enough money from Pomodoro to take myself to Utalii [College]. I wanted to learn how to bake. And I baked. But I didn't like it. Decorating a cake is delicate; you need to be patient and focus for more than two hours. The exhaustion by the time you're done just beats the whole experience.
My favourite chefs from 'Chef's Table' (Netflix series) is Rene [Redzepi] and that Brazilian chef, Alex [Atala]. I don't think any chef from Kenya would feature on the show. Our food culture is zero. Zero! It's embarrassing that we know more about Italian or French cuisine than we know about Kenyan cuisine. Something needs to change.
Executive chef is just a title, really. I'll always be a commis chef because I'm always cooking.
There're chapos I ate when I was about five, six years old, I've never forgotten them. They scarred me. Hahaa. My neighbour had made them, they were hot from the pan, fried with yellow Cowboy oil, she'd wrap them in this cloth. Then when she was finished she'd take them all, the whole bunch, and knock down the edges like this. Aah man, so they'd become soft and fluffy… those chapos scarred me for life. I've not eaten chapos better than those. That's probably why I don't like chapos anymore.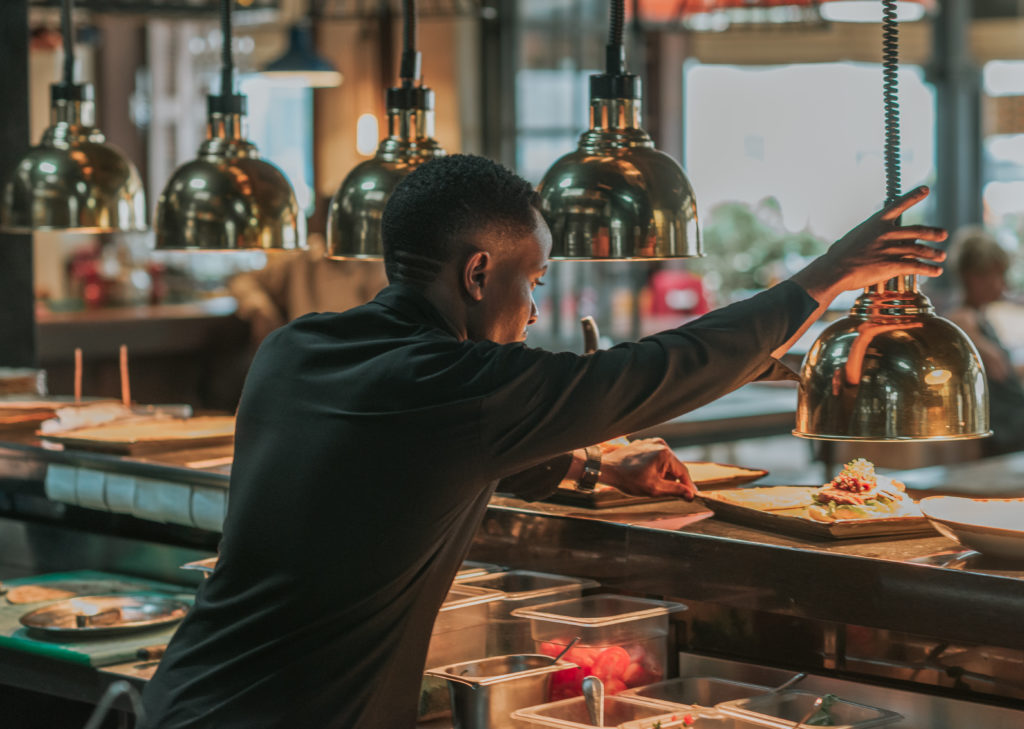 I grew up in Eastleigh in a large family. I grew up to a lot of street food, especially during Ramadhan and the women would cook kaimati, bhajia, kebabs, vitunguua… I also grew up to fast food like Steers and Wimpy. My dad was from Narok and my mum Kirinyaga. I didn't drink blood and milk, hahha, and I don't feel that I missed out culturally on that food. What I'd like to do now that I understand food and the profile of flavours, is translate that traditional culture into modern cooking.
I wish in school they'd taught us more of culinary arts. And music. Art and craft. Agriculture, I liked agriculture in high school. They should also teach us more history of Kenya, history is very important.
I had the same barber since birth to 2015, when Karisa became my new barber. There was no reason why I switched barbers, it was just about time. Karisa's barbershop is in town, at the corner of Wabera and Standard Street. Hamilton House, you can't miss it. For 10 years I've had my barber shave these three lines in the back of my head.
I still have those moments where I ask myself what the hell I'm doing in the kitchen. It still happens every day. But I love the thrill. And I love the kitchen because I'm always solving a problem. Our guests have trusted me to prepare their food for them, I want nothing less but a perfect service.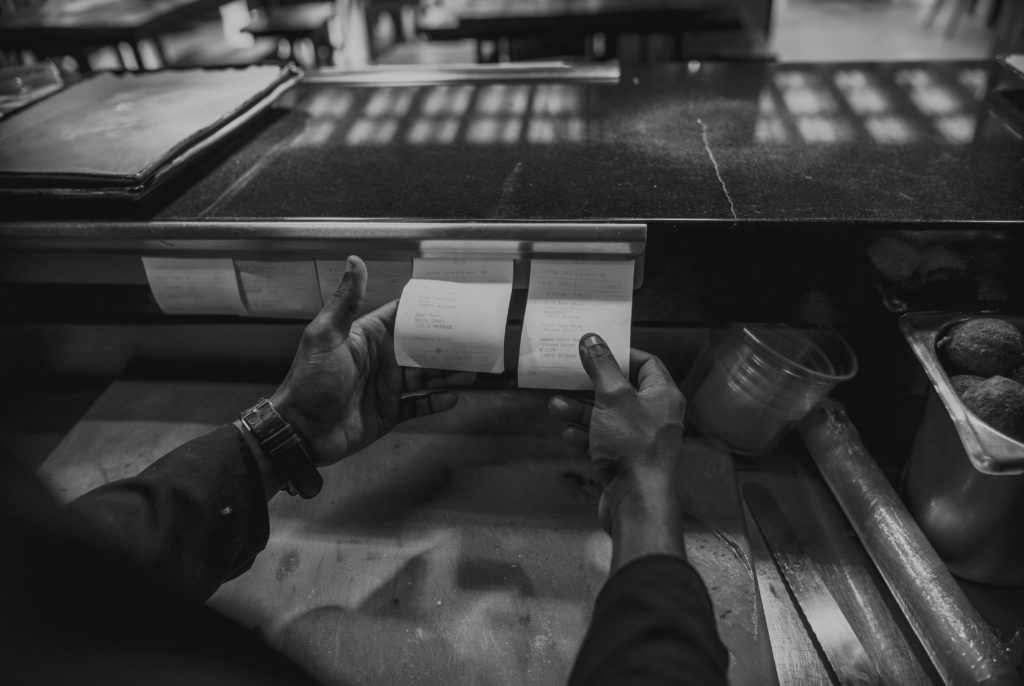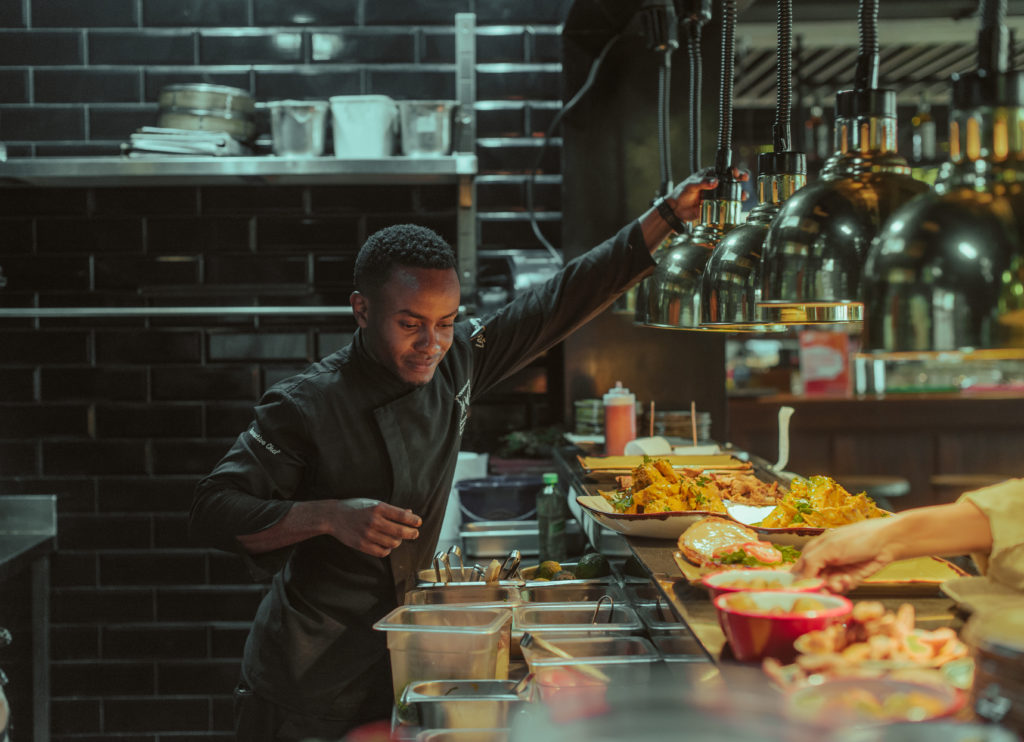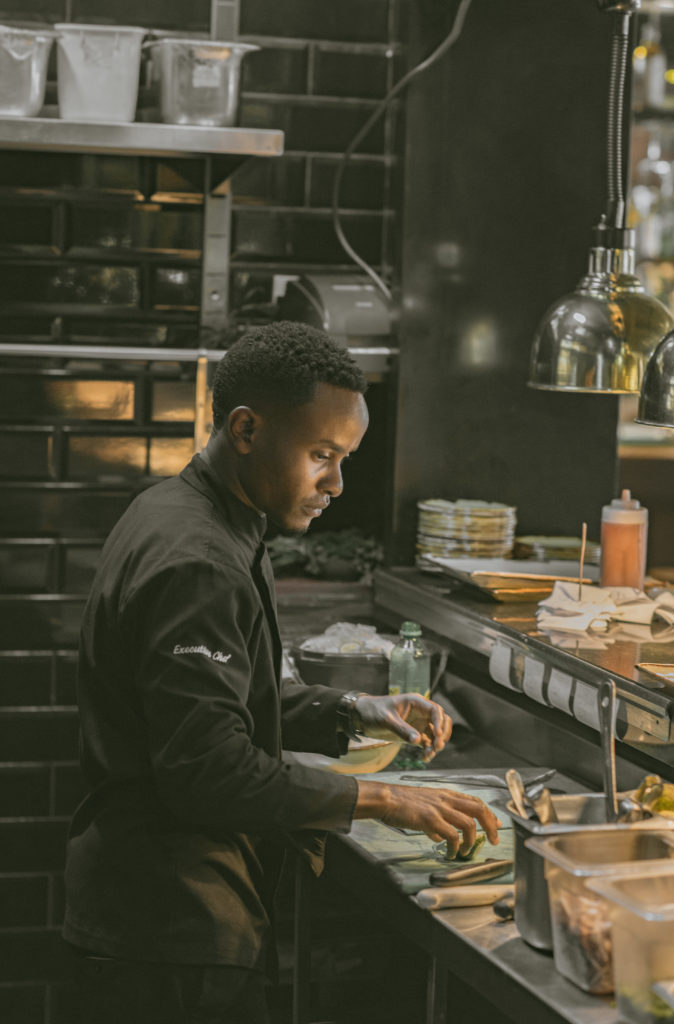 All photos are by Mburu Kinuthia, of Nyuso za Nairobi, for Craft It. Image copyrights apply. None of these photos can be used elsewhere without the express permission of Craft It.
19