BY FLORENCE BETT
I thought about Nyambura Thuo for several moments of several days before we met. About why she chose to make shoes. I thought about her so much it bordered on unhealthy.
Thinking while going through my day, it was as if I were hypnotized or in a trance. Or walking noiselessly through a movie that had no sound and no colour: If sleep escaped me in the middle of the night, I stayed up staring into the darkness and wondered why she chose to make shoes. In the morning, when my feet swung off the bed and landed onto the slippers waiting where I'd left them the night before, I thought about her. I thought about her as I looked into the sink mirror to brush my teeth then showered.
I thought about her as I knotted my hair and filled in eyebrows, as I bent down to slip my foot into one of my own shoes and lace them up; I wondered where I would begin if I were to make my own shoes. I thought about her as I went through my workday; meeting people and listening to their stories to write, sometimes I'd peek at their shoes. And each time I'd wriggle my toes in my shoes or stretch my feet out under my desk, I thought about Nyambura and her shoes.
As I walked home that evening, I looked down at my feet hitting the tarmac – one foot infront of the other, the leather inhaling and exhaling around my feet, the dynamics behind my weight and age and height, and how that factored in to the stitching and hardware of the shoe – and I thought about Nyambura. Playing with my toddler Muna in the evening, I cupped her chubby feet in my hands and watched her laugh as I tickled the flat soft bottom, and I thought about Nyambura and her shoes.
Yep, it was unhealthy.
I had met Nyambura last June, at the Eleventh Edition of our Creative Writing Masterclass with Bikozulu. What I remember about her is that she had been a communications guru with a string of NGOs for most of her 15-year career. She'd now quit her last job and was pursuing some personal venture. She talked openly – and at length – about her NGO life but said little about the personal venture. I didn't pursue it either.
A few weeks later, as I put up content on my social media channels (follow us, by the way; Facebook and Instagram), Nyambura emailed me. "I designed a school shoe and is in the market now," the email read. "Would you call this a craft? Would you like to hear a story on it?" I told her hell to the yeah. She giggled back and wrote, "Please give me a shout when ready!"
I did.
We meet a week later at her office in Lavi. It's in one of those maisonettes built in the early 80s and has since been converted into a commercial pocket hosting several one-person start-ups. The little black gate at the entrance opens up into a driveway and a surprising expanse of an acre; the maisonette sits smack in the middle of it. The brick and mortar of the house has aged with an underappreciated grandiosity, now the entire structure looms like a remnant from a bombed out city in the Second World War. It feels immortal. The lawns are browned, broken and forgotten.
Inside, through the front door, the house has the tasteful finish that easily comes from wooden floor tiles. To my right are doors leading to shut doors. I look up into the yawn of a high ceiling. To my left is the magnificent wooden staircase with its deep treads and wide landings; Nyambura's office is in one of the former bedrooms upstairs. I follow her up.
As I place my hand on the banister, I pause for a second and somewhere in the distant past, I imagine and catch the last words of a young couple fighting. Maybe the wealthy ones that had lived here when the house was still a new home and everything was spit-and-shine polished – she'd called him an insensitive buffoon before she run up the stairs and slammed the bedroom door hard behind her, then she flung herself onto her bed to cry. To cry about her loveless dying marriage and her loneliness and her barren womb and her husband's bad suits. She missed her mother. And her cat.
Upstairs in her office, Nyambura has some shoes out of their boxes and on her worktable. Before we sit down to start chatting, I pick up one of the shoes and finally ask her, "Why would you make shoes, Nyambura?"
"Well… I'm a parent, and I have three kids," she says. "I saw the worst and ugliest of school shoes with my first born, his name is Alvin, he's 18. I bought countless pairs for Alvin, especially between class three and five, when his feet were growing really fast, I'd sometimes buy him two pairs in one school year. But the shoes were badly designed and had the potential to ruin Alvin's growing feet – they were heavy because of the sole and top didn't fit him well, so they weren't comfortable. He'd drag his feet around a lot, yet he had to wear the shoes all day and even play in them." She pauses. "School shoes are not cheap! Oh no, they're not. A new pair costs between 1,200 and 2,000 bob."
"What about mitumba shoes?" I ask thinking about the countless chaps in Moi Avenue and Jamia Mall and Adams and Toi Market and Gikomba and so on that sell mtush shoes. "The quality of most of them is good."
"Yeah, yeah, they're quality is good," Nyambura says agreeably. "But… you know…." she trails off before she says, "I wanted to buy new shoes for my kids, you know? And most shoes mitumba are hand-me-downs. Hand-me-downs are really not a good idea because the feet of every child wears shoes differently."
Nyambura continues, "Then there were the shoes from China. There were affordable, at about 1,500 bob, but they were not of good quality. I think the supermarkets that stock them just take whatever they can find from China. Ha-ha. There are brands like Clarks that make shoes from pure leather, and they are of high quality and are light in weight and are very comfortable…"
"Clarks make excellent shoes!" I jump in rather rudely and chime.
"Yes, yes they do!" says Nyambura, eyes lighting up. "But they are so expensive. A pair can cost about 4,000 bob."
I think about their retail outlets in Yaya and Nakumatt Prestige, and the number of times I've walked in to get high on the smell of leather and the hedonism represented in each pair. That little thrill of trying shoes I'm certain I won't buy anytime soon.
Nyambura continues, "And there wasn't much choice for us parents. We were buying whatever we could find in our shops because there wasn't much variety in brands. FunPatch Kids, my company, designed a shoe and I had them manufactured in China and imported here for our local market. I started FunPatch because I wanted to revolutionise the school shoes. I wanted to offer a pocket-friendly alternative to parents and the right features for the growing feet of children."
We sit down to chat. Nyambura is a darling and has bought me a muffin and a cup of hot chocolate from Java. It's chilly up here and I'm loosely dressed. I stir two satchets of sugar into my mug, press on my recorder and turn to a fresh page on my notebook.
So here's something I should have mentioned earlier: On the day I was meeting Nyambura, I was meeting her for a feature as a Woman of Passion for the Saturday Nation Magazine. It was a few days after we'd spoken that she saw my byline in the Magazine and told me that she fit the profile for Woman of Passion (she'd left her established career to pursue her passion fulltime as a business). Her story run in the Saturday Magazine on 7 September, and here we are now doing yet another story for Craft It. How lucky can one girl get, aye?
Nyambura is 40. Married. She has three kids, a boy and two girls; they're 18, eight and five years old (in that order).
"FunPatch is our brand of functional baby and children products that I started last October," Nyambura says. "The mother company is called Home Vitals Limited. I registered in October 2015 but launched operations a year later."
"And why did you start this other business, Home Vitals?"
"I'd had my two daughters in 2009 and 2011, and I'd had difficulty finding quality baby products at the right price for them," says Nyambura. "For example, a 3-in-1 potty, we didn't have that here in Kenya and –."
"What's a… 3-in-1… potty?" I ask interrupting her.
"A 3-in-1 step-up is like a potty that comes in a chair. With this potty, the toddlers are able to start potty training with minimal supervision. It gives the baby independence and the child convenience, which is the joy of any mother or care-giver and the child too. Yeah… yeah…" Nyambura likes to fill up the blank spaces as she thinks with this phrase, 'Yeah, yeah'. She'll bob her head while at it. That phrase plus, 'So..so…' and 'So… yeah, so yeah'. She speaks as if she's singing.
She continues, "We didn't have them here in Kenya. Knowing the plight of other mother's like me is what inspired me to think of a business in the line of babies and children. I didn't want to bring in clothes and toys because that had been overdone. I wanted a unique and functional product that would give children a holistic development. Something fun."
Let's pause here so I give you a background of Nyambura and her career: Prior to Home Vitals and FunPatch, Nyambura tells me she had worked as a communications expert in the NGO world. She graduated from KU in 2001 with an undergrad in Food Nutrition and Diatretics. She knew she always wanted to work in the NGO world and not in corporate. So immediately after her graduation she applied to AMREF and volunteered with them for them for two years before getting a permanent position as an information officer in one of the projects, in 2003; she was part of a pioneering team that used technology to disseminate information and knowledge to rural communities across Kenya. This project sparked her interest in communications.
In 2005, she started her Masters in Development Communication at Daystar. She graduated in 2008 then left AMREF because she needed the change to conquer new horizons, she says. She joined Action Africa in January 2009 to launch their communications department, and was in that position for eight years before becoming the Country Projects Manager; she supervised a team of 10 youngins that worked in five countries across Eastern Africa, including Somalia and South Sudan.
It's in this management position that she developed a new interest in knowledge and information management. She applied for a second Masters in Information Management from a university in the UK, it's a distance-learning program. She will this graduate December before taking a break to pursue a PhD in the same line.
"Why are you doing all these degrees?"
Nyambura laughs. "My ultimate plan is to become a university lecturer."
It was after she'd had her daughter in 2013 and settled her into our crazy world that Nyambura got the idea for a business. She spent the next three years organizing and thoroughly planning for it (as is typical to Nyambura): she put aside money in her savings, discussed with her husband the dynamics of three kids versus one salary, researched extensively on the market and product ideas, surrounded herself with early supporters, prayed hard and meditated, changed her thinking to entrepreneurship mindset.
In January 2016, she says, she zeroed in on manufacturing school shoes for children. She collaborated with a professional to design it – she knew exactly what she wanted in her shoes because she was designing it from a point of knowledge and of love.
She quit her NGO job that June then made a business trip to Guangzhou in China that October to find a factory to manufacturer her shoes. "The manufacturer I settled on was a reputable company that also makes shoes for brands in Europe and the States," she says. "So the same standards they apply there are the same standards they applied for my shoes."
Nyambura pulled cash from her savings and borrowed from her chama of 15 women – table banking, as she aptly puts it – to raise the capital to manufacture the first batch of 1,100 pairs.
"What was your starting capital?" I ask.
"1 million shillings," she says.
"So, you are a very good planner and are extremely organized, Nyambura, but there is this manufacturer who is all the way in China and there are things along the process that are beyond your control. In those first few months of business, is there anything that happened that you had not foreseen?"
Nyambura is quiet for a minute as she thinks. "Oh, yeah, yeah! The biggest was the timing for the first batch. I came back from China in the beginning of November [2016], by that time I'd already placed my order for the first 1,100 pairs. My plan was to get the shoes here in December, before the new school year, so that we could ride the January [2017] wave. One thing you must remember about school shoes is that they are a very seasonable product; parents buy them at only certain times of the year." Nyambura sips from her mug of hot chocolate. "But it was not going to be possible to have them here by December because the factory needed 90 days to do production, then factor in another 30 days of freight to get the shoes here. So I was so disappointed that we were only able to get the shoes in March [2017]."
We talk some more about costs and margins then I say, "OK, explain to me the feature of FunPatch shoes."
Picking up one of the shoes on her worktable, Nyambura says with pride, "Well, they have a Velcro strap for easy and quick wearing; not buckles or shoelaces. The inside of the shoe is made from a soft cloth lining; the lining makes the shoes breathable and comfortable to wear with socks. No no," she says when I ask, "the feet won't get hot and sweaty because of wearing the shoes with socks. They are very comfortable when worn with socks or without socks."
She fingers the round toe of the shoes. "They have a rounded forefoot to make room for the child's toes to move around comfortably. For the sole, we used rubber because it can bend and won't crack when the child is walking or playing." Nyambura bends the shoes and makes it do at 90-degree flip, until the tip touches the toe. I hold my breath waiting to hear a painful groan from the shoe or stitches bursting or glued parts coming apart, but the shoe holds its own in the face of this pressure. I exhale out aloud and giggle. Nyambura giggles with me. She says, "The shoes for the younger children have a flat sole and for the older ones, we have a ragged sole for slip resistance."
Nyambura runs a fingernail along the inside of the upper sole, "We have reinforced the sides with double threading, just to make it stronger and to make sure that water doesn't get into the shoes. As you can feel, the shoes itself is very light, making them comfortable to walk in and play in. The top is a material that's a mix of leather – 30 per cent pure leather, 70 per cent manmade leather – making it waterproof and easy to clean and polish.
"We padded the back to give the foot extra cushioning. Also, so that the back won't flatten when the child steps on it with their foot. And we sell the shoes with this shoe-shaper so that they won't deform or lose shape when they're not being worn during school holidays."
We are silent for a few minutes as I hold the shoes in my hands and turn it over and over again, examining the intricacies of the workmanship and the thoughtfulness behind the design. For a few fleeting moments, I imagine what Muna's chubby feet would look like in one of the pairs, with white school socks and a little school dress and a pink school bag. I sniffle away a tear.
I ask Nyambura, "Is there anything about this shoe that you don't like? Or anything you included in the design that they didn't include in the manufacture?"
"So…." she says, "they got the design right. The only thing I don't like is that they didn't engrave our FunPatch logo into the sole of the shoes. But that will be done for our next batch."
"So you're selling the shoes only online?"
"Yes," says Nyambura. "We don't have stores open yet. I am looking for distribution partners to stock our shoes in Kenya as we venture into East Africa and the rest of Africa. Currently, due to huge production costs as a result of the minimum volume that our young company can handle at the moment, we have only one style available for girls from sizes 26 through to 36, and only in colour black. My aim for the future is to expand to include more styles for both boy and girls, giving our clients more choice and variety. I also want to manufacture other shoes for kids besides school shoes. I need to access more capital to do this."
I spoke to one of Nyambura's customers, a mum who had bought a pair in January for her eight-year-old daughter. She said, "I like the shoes because they are light and quite long-lasting. My daughter has worn them for three school terms now and the shoes still look new-ish. What I didn't like about the shoes I'd been buying from…" she mentions an established competitor, "…is that the shoes looked old and tattered after a few months of wear. It's embarrassing for you as a parent to send your kids to school looking like that! FunPatch shoes still look as good as new many months later. What I'm not too happy about is the price, it's a bit steep, I'd be more comfortable paying 1,500. But for the quality and comfort we get, it's worth this price."
What FunPatch offers
School shoes for girls
– Size 25 to 30: Sh2,200
– Size 31 to 36: Sh2,275
– Colours available now:  Black
– Colours that will be available from Nov 2017: Brown
School shoes for boys (coming soon)
– Size 25 to 30: Sh2,200
– Size 31 to 36: Sh2,275
– Colours that will be available from Nov 2017: Brown and black
Reach Funpatch
Facebook: FunPatch Kids
Email: [email protected]
Cell phone number: 0796089056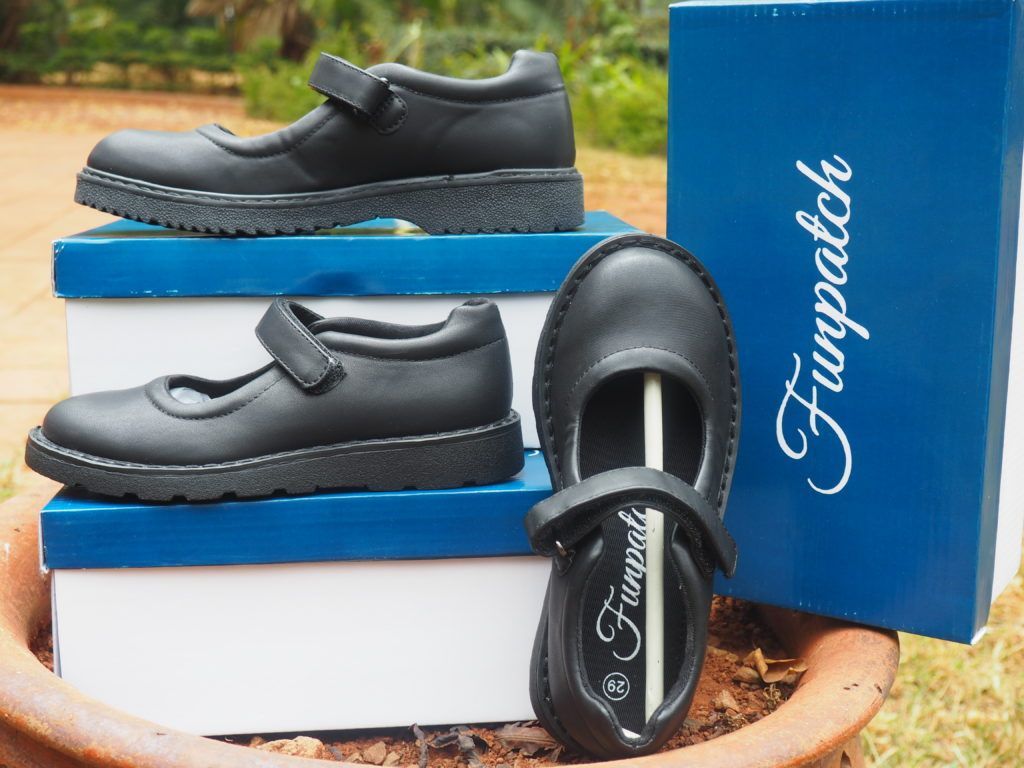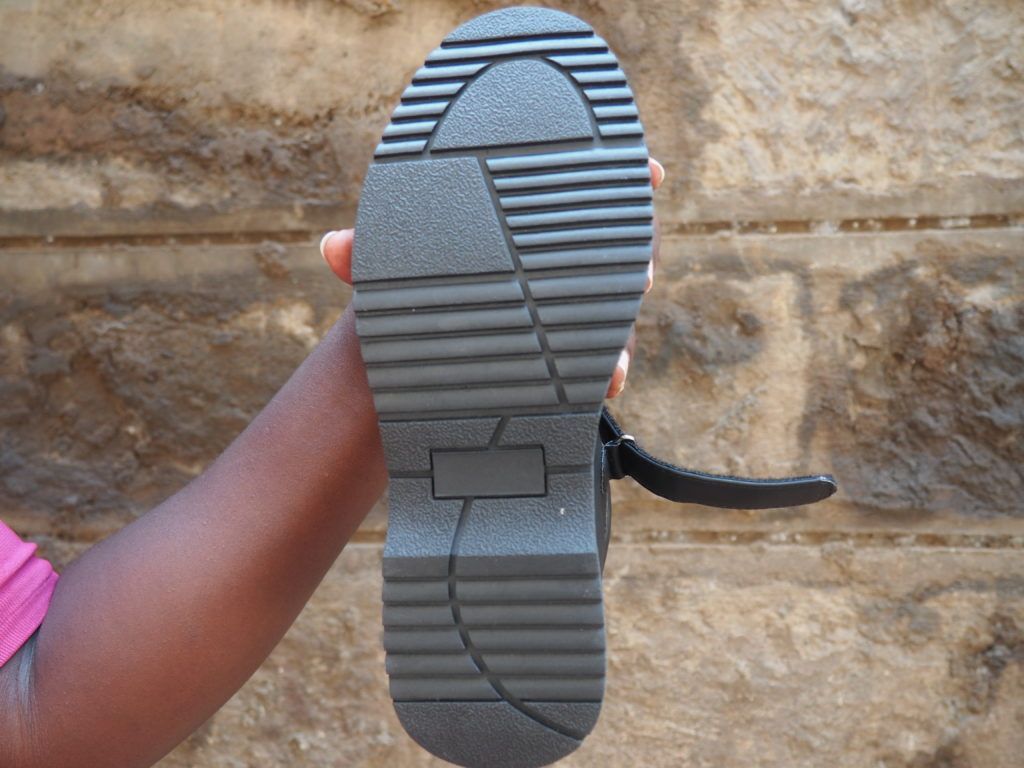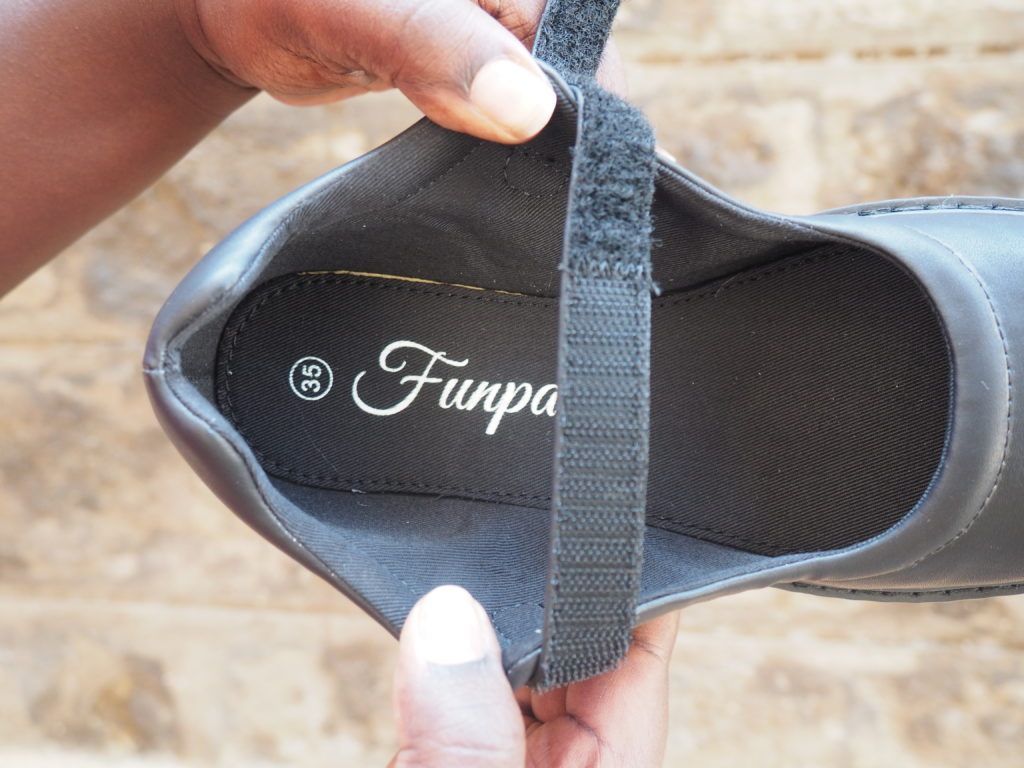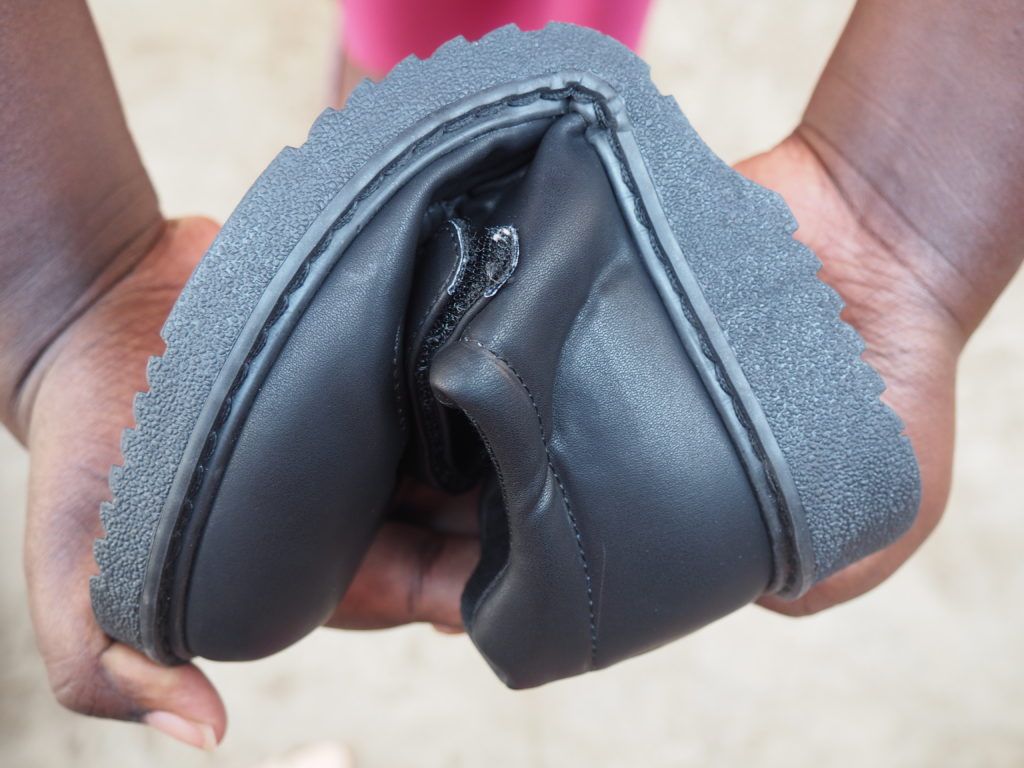 25