BY FLORENCE BETT-KINYATTI
"What does a beard say about a man, Njoki?"
"A beard gives a man character. It's their style. It's like their, I don't know, their makeup. A man says something with his beard. That either I'm bold, or confident, or that I break rules and I'm rebellious. But it makes a man look good and it makes him manlier – I don't know if there's a word like 'manlier'?" Njoki chortles. "If a man would keep a beard in a way that he can take care of it, and it wouldn't get itchy or dry, then most men will keep a beard. Unless it's not your thing, or you don't have the genes for growing a beard…"
Njoki continues, "There are a lot more men with beard now than before, maybe it's 'cause I'm in this space of grooming beards that I'm seeing a lot more men? I don't know. But the trend worldwide now is to keep a beard. So men here are seeing other men with beards on the Internet or abroad and they look good. And they think, 'hey, I can style my beard this way and wear it with a suit or a nice shirt and still look good.'"
"School me on the different types of beards. Or rather, the different type of facial hair for men."
Njoki cups her face as she takes me through Beard 101: A full beard is the sideburns plus the hair on the cheeks, chin, upper lip and around the mouth. A man can style his full beard in different ways, Njoki says; some men go for a short full beard or long full beard, others style it as medium short, other play with the sideburns or with the hair around the mouth.
When I think of a full beard, I think of Joho, Mombasa Governor (short full beard). I think of Sebastian Wanzalla, the photographer (short full beard). I think of Rick Ross, the artist (short but bushy full beard). I think of Ragnar Lothbrok, the lead character from The Vikings (long full beard). I think of that wizard from The Lord of The Rings, what's his name? His is a full beard but it's also a metaphor of mild insanity. Hahha.
A soul patch is the hair right beneath the lip. I'm trying to think of which popular dude has a soul patch and I can only think of Michael Jordan. I doubt I've seen a Kenyan man with a soul patch. If I have then I can't recall. Or maybe I wasn't paying attention.
A goatee is the hair on only the chin, Njoki says. A full goatee surrounds the mouth and covers the chin with hair. A chin goatee is concentrated on only the chin. Goatees are popular with Kenyan men. Goatees don't excite me like full beards do.
A landing strip (I've had to Google for this one) runs from the bottom lip to the chin. I always associate a landing strip with the bad bald Mexican guys from TV. Like the drug peddlers or a hombre fresh out of prison.
"A moustache is the hair on the upper lip," Njoki says, "We shorten it to say 'stache. A 'stache."
"Does it communicate different to the world," I ask Njoki, "if a man has a goatee or a 'stache or a full beard?"
"It depends, really – 'cause every man has a different style, so he should find his style and groom his beard to fit his style.
"We also have a blog on our website where we tell people, if your face shape is like this, go for this type of beard. If your beard is sparse and you know you can't grow a full beard maybe keep a goatee or a 'stache. We also tell them, if you're wearing a denim jacket you can style your beard in this type of way. Or you can wear a hat [fedora, cap or newsboy hat] with this type of beard. And I know it's out of this world and people say, 'you're crazy!' But it's good, people read this kind of stuff, men are saying, 'yes, I want to know how I look.'"
"I like beards. A lot. Do you like beards, Njoki?"
"I…" Njoki chuckles like a shy schoolgirl. "I do. Of course. Of course." She adds hastily, "Buuut, a well-groomed beard. And there are people who can't do a full beard, so shave it down or talk to your barber about what you can do with your beard."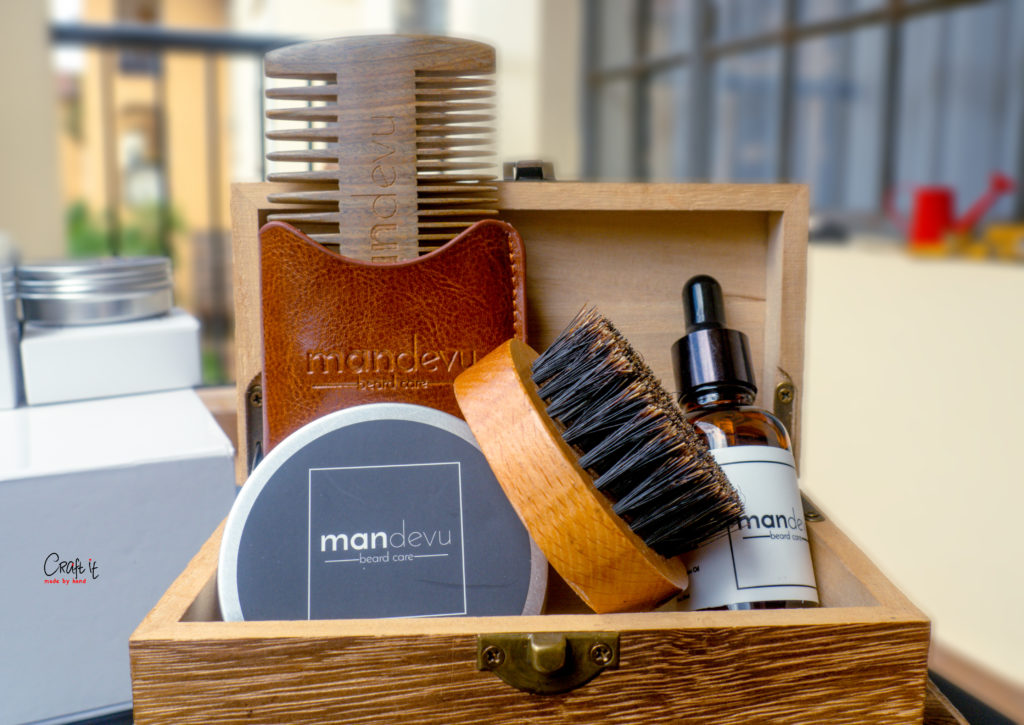 In case you haven't joined the dots already, this is a story about Njoki Njoroge and her outfit, Mandevu Beard Care.
Njoki makes products at home for grooming men's beards. She makes and sells them under the brand mandevu. She makes beard oil, beard balm and beard wash in mint, she outsources the making of the beard comb and beard brush.
Mandevu's products went into the market in November 2016. Its idea was birthed early 2016.
Njoki is 30, she runs the business with her hubs, Mbuthi. Mbuthi was the soulful inspiration for the brand and is a tireless ambassador for the brand and products.
She says about how he inspired her, "Mbuthi has had a beard for quite a while, he's able to grow a full beard 'cause he has the genes for it. Some men don't have the beard genes, like my brother doesn't.
"Mbuthi would use my products, the ones I use for my natural hair." Njoki fingers her kinks. "I usually make my own mixes. I was newly natural back then [in 2012] so I was trying everything. Someone says, 'Coconut oil is the truth', you'll buy coconut oil. Somebody says, 'Avocado oil is the truth', you will look for avocado oil. So there'd be all these oils in my bathroom. But over time you find out that you probably just need one oil –"
"Which one oil is this for you?"
"Currently I'm an argan oil believer, because it's really light and you can build with it. Say if you want your butters and oils to go with a scent, it's easy to add this scent to the argan oil. I also like jojoba oil." (Don't embarrass yourself. Read it as 'hohoba' oil, not 'jojoba' oil, as I keep saying to Njoki. Hahha. It's the same way you say 'fajita' as 'fajita' instead of 'fahita'.  A Mexican fajita. Or 'José' instead of 'Hosé'. José Mourinho. You get?)
"Are they locally available, argan and jojoba oil?"
"Oh yes, there're people who sell it wholesale. But it's expensive." Njoki picks at her words carefully as she says, "You can find people selling it for between 2,000 to… 4,500? Depending on where you're buying. I have someone in Nakuru and someone in Nanyuki as well. And cold pressed is even more expensive 'cause you get all the essentials in the oil."
"What does 'cold pressed' mean?" I blurt out.
"Cold pressed means there's nothing that's been extracted from the oil. 'Cause if it's refined it means some of the essential oils are missing."
Cold pressed versus refined oil. Got it.
"Why weren't you using shea butter like most naturalistas do?"
"Shea butter…," Njoki trails off and laughs. It's like I've asked her about a bad first date and she's cautious to divulge the nitty deets lest she makes her date look bad. Njoki says, "I use shea butter for our products but I find it heavy for my hair."
"When did you go natural?"
Njoki looks away for a moment as she thinks. "Uuu…I think my last perm was in 2010. 2011. After graduation. I didn't relax my hair after that…" Njoki trails off "…2011? 2012? Actually early 2012. It was 2012."
I put that in a timeline. "So between 2012, when you went natural, and 2016, when Mbuthi started to use your products, you had already experimented with different oils, different brands and you knew which oils worked for you and which ones you liked and didn't like?"
"Yes."
"And that's when Mbuthi found these products in the bathroom and wanted to use them for his beard?"
"Yeah," Njoki continues, "so he'd be like, 'Babe, what should go before what?' And I'd tell him, 'Use the shampoo first before the conditioner'. Or, 'Just go with the conditioner today.' Or, 'If you want to hydrate and moisturise your beard, just use this oil'.
"After some time I figured there must other men like him who must be going through the same thing every morning – they don't know which product to use for their beard and they probably want just one thing. A wash and go. Because I'd see how frustrated Mbuthi would get, 'cause he'd ask, 'These are so many things. Why do you have so many things for just your hair?!' Ha-ha."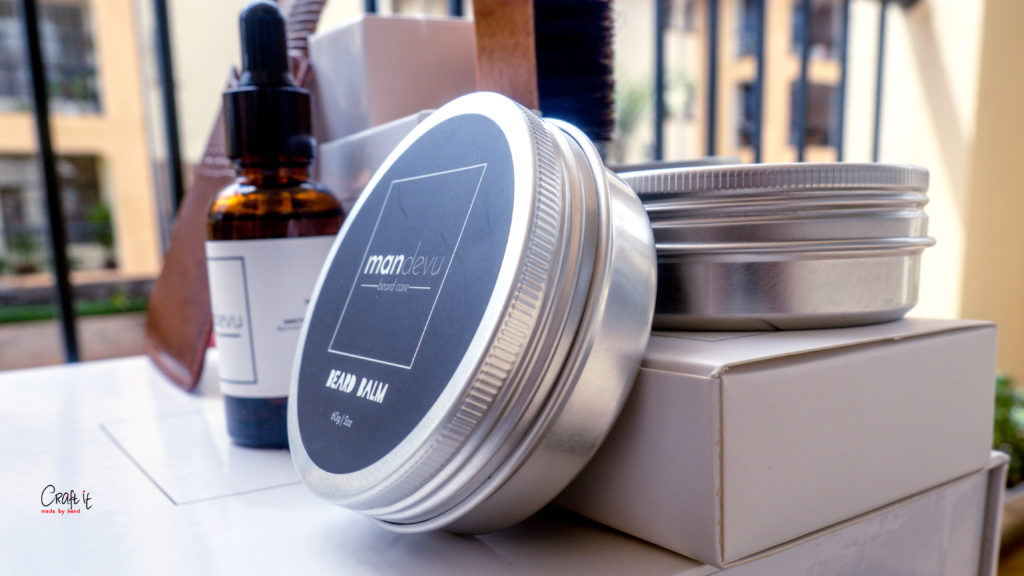 Njoki lights a candle while we chat. We're chatting from her living room at her home.
The candle she lights is a small, scented wax and paraffin candle in a glass holder. It's colour black. The packaging on its side reads, 'A Scent of Firewood Figs – Original recipe Small batch' by H&M. The scent helps me relax, Njoki says.
A red bookcase sits against one wall of her dining room. It's one of those minimalist symmetrical bookcases in red laminate. It has a back but no sides. The books in each shelf sit atop each other. I take a peek at the collection. There are three titles form Paulo Coelho – 'The Zahir', 'The Pilgrimage' and 'By The River Piedra I Sat Down And Wept'. Some Yvonne Adhiambo Owuor and Ngugi Wa Thiong'o, Elizabeth Gilbert, Lloyd Jone and Nick Hornby. Teju Cole.
On another shelf is Steve Biko's 'I Write What I Like', Master Lam Kam Chuen's 'The Personal Feng Shui Manual' (this explains the scented candle Njoki lights). On yet another shelf, the top most, is 'Magical Characters & Places Colouring Book' and 'A Winter's Tale – A Festive Colouring Journey'.
Njoki travels her mind in these books, the knickknacks dotted across her living room tells me she's travelled the world and brought back these little pieces of treasure to tell the story of where she's left a footprint. The knickknacks are also in her kitchen, her dining table, her TV console. My favorites are the red miniature watering can on the balcony and the hourglass on the little table near the main door, it's next to a miniature silverish cypress tree that's really a keyholder. Maybe one day I'll ask her to tell me about where she bought them from.
Later, Njoki tells me she loves to travel because it balances and refreshes her mind, "It gives me new ideas and I always come back with new scents. It's amazing what you can do with a clear mind."
Njoki graduated with her undergrad in International Relations and Management from USIU in August 2012.
She chose I.R because she wanted to be an international lawyer or a diplomat. She wanted to work in the UN and drive around this town in a red plate, and travel the world with her work delivering peace.
Njoki was an active member of AISEC. Remember AISEC? That club in uni for uni students? You must have had an AISEC chapter in your campus. Njoki got into uni and got into AISEC before she'd grasped how it'd shape her young mind as a person, her thought culture as a member of society and later in her life, as an entrepreneur in a hitherto untapped local market for men's grooming.
She says when I ask, "I don't know what was driving me towards AISEC but it felt like we were changing the world as students. Ha-ha. But we travelled. Really travelled. I went to S.A., Turkey, Istanbul and Sao Paulo, Brazil. There was no conference I'd miss."
"What did travel teach you?"
Njoki scratches her arm and chews my question over for some lengthy moments. "That we're all human. That we're all the same and we all want the same things."
"Which is what?"
"I don't know. To have peace of mind. And to live well. To live comfortable lives."
It's through AISEC that Njoki got her first paying jobo – at 22, in Lagos, before her graduation. It was an internship with a tech firm, she was in marketing and communications.
Her internship folded in late 2011 and she relocated to Gambia to manage one of the firm's West African's projects.
Most of the skills Njoki now uses to run Mandevu – branding, marketing and advertising, speaking up and getting her voice heard (literally and figuratively), communicating boldly and with clarity, doing away with favouritism or backbiting amongst your employees – she learned from her two years in West Africa.
I'm sitting across from Njoki. Will, Craft It's photographer and videographer, is behind the tripod monitoring camera #1 to record footage for our (dormant) YouTube video. He has another camera in his hand, some fancy heavy-looking Nikon he nicked from his office. He usually shoots with two cameras so he can get different angles in the footage – one camera, the main one, sits on the tripod, the other pans the room and the subject with him. It all looks so professional and so real.
I ask him if camera #1 is still recording , he nods and offers me a weak smile. I think he's getting restless. Njoki and I have been chatting for 25 minutes already. It'll be another 42 minutes before we stop chatting. Then Will will follow Njoki into the kitchen to capture footage for the process of making some beard balm.
Will, the poor thing, and to imagine he has another full day ahead of him after we wrap up this interview. I'll be done with my day – I'll only need to draft this story while it's still fresh in my mind then run a few errands and head back to the digs.
All in a day's work, aye?
The trajectory of Njoki's career and life path changed without warning on the night of July 1, 2012.
Njoki says in a muddle, "June 1, I get a call from… well, I get missed calls the night of May 31, no, noo, noo, it's June 1. It was the night of June 1. So the next day I'm looking at my phone and see so many missed calls.
"So my Mum calls me, then my cousin calls me, 'Oh, why you not picking up your calls?' My Mum had told me she'd be at the bank paying… uhm… 'cause I needed to pay for my," cough cough, "what is it called? My Masters. 'Cause I was going to do my Masters in Belgium. So I remember thinking, 'Oh these missed calls are many! She must be at the bank, and then time difference and all, she must be trying to…' Cause I'd told her I'd send her the money she pays the deposit. So I call her back, 'Mummy, are you at the bank?' She's like, 'Nooo… I'm not at the bank…your… your brother was involved in an accident on Langata Road last night. But I've been trying to reach you'. I was like, 'Oh, my phone was on silent'.  Then…"
Njoki exhales and catches herself, her voice breaking. "So she's like, 'he's in a coma, it was a really bad accident.' So I just… I start…" Njoki adjusts herself in her seat, "I go crazy."
"This was your younger bro?"
"Yes, my younger bro. He was 18."
"And how many are you at home?"
"We're three." Njoki coughs again. "I have a big bro and a small bro. It's a family of men. That's why I'm into men's grooming," Njoki chuckles, "I'm pro the man."
Njoki voice changes timbre as she goes back to the events of that day. "So, uhm, yeah, so my Mum says he's in a really bad accident. Now I'm like, 'Mum, is he alive? Is he alive? Is he alive?' Then I'm like, I don't think my Mum is telling me the truth. I call my Dad. Then I call my other bro. Then I call… now I'm calling everyone and I'm going crazy. And I'm faaar! I could feel how far I am. 'Cause I'm in Gambia, Kenya is here. Even the calls, you know how you wait for… like you're hearing an echo? I'm like, 'I feel so far!' So my Mum is like, 'He hasn't woken up, blah blah blah.' So yeah. I go crazy. I cry and cry and cry. And I remember I was in the bathroom at work."
Njoki sighs. "So I call my boss, he was back in Lagos, I tell him my bro has been in an accident and I can't… uhm… I mean, I have to go see him. And we were now closing the project in Gambia. And I remember that Saturday I was going with my team to go see Senegal and tour by boat. I couldn't… I mean, I had to get the quickest flight back to Nairobi. At least I had another project manager so it was just about handing over. And every, I think every 30 minutes, I was just calling home. And I'm like, I know I'm not God but I can't be this far. You know? Like even if I go it's not like he's going to come to."
Njoki coughs and soothes her chest.
"So I did a sort of handover. Everyone in the bank… Gambians are really nice prayerful people, I think they somehow knew. Then they'd pray with them. And you know Gambia is predominantly–"
"Christian?" I offer.
"No, it's Muslim, but the people were like… we'd pray with them as I'm waiting for a flight. And I had to do Gambia to Lagos then Lagos to Nairobi. Gambia to Lagos is three hours, Lagos to Nairobi is five hours. It was… aii. It was…" Njoki is at a loss of words. She exhales. She's silent for few seconds. "It was so hard. So hard. 'Cause you want to be with your family, you can hear them on the phone trying to be strong but you know your people. And me I think people when they're far they don't tell you the truth, 'cause they want to make it lighter. Or you you make the truth lighter for yourself."
Njoki eventually flew home. She went to the hospital the next morning to see her brother. He was in the ICU. Nairobi Hospital. On a ventilator. He had suffered brain damage. His two pals who were in the car with him that day – one escaped unhurt, the other with minor bruising. Her brother looked like he was calmly sleeping, Njoki says, well rested. But he was not responding. She broke down. This was her baby brother. He'd just finished high school. Top of his class. He was going to Strathmore that June. June 3.
She never returned to Gambia.
Her brother left hospital after three months, that August 2012. He continued treatment at home. He had suffered a stroke while in the coma. His bedroom at home was turned into a sanitised hospital room, fully kitted with equipment and round-the-clock nursing care. He later got a physiotherapist to help him learn how to talk and walk again. He's 24 now, still at home but he's doing much better.
I give Njoki some space to compose herself then I ask, "What did this accident open your eyes to?"
Njoki doesn't skip a beat. "Family! There's nothing like family. And nothing mattered. Absolutely! Even my very very big project in Gambia," Njoki giggles, "didn't matter. All I had was my family and I just wanted to be with them."
"How did your parents take it?"
"They're unbelievably, I don't even know what to call them, strong. They're the ones who were like, 'Calm down, he's going to be OK, he's going to be OK.' I've never seen people with such faith. They'd talk to him everyday – 'cause in the ICU you have to talk to him, play him his favourite music, football, TV. They always had the words to talk to him."
Njoki settled into the new norm of this life change and slowly picked herself up into the reality of the career she'd paused.
A pal connected her to an advertising agency where she became a media manager.
Njoki quit less than a year later, in October 2013. "I liked the job, I got fully into it. I worked such late nights and it didn't make sense to me because I'd come home to be with my brother and family. It makes no sense to be in the office at 2.30, 3.30, and still be in the office early the next day."
Njoki and Mbuthi, her hubs, set up their own digital agency later that year.
The resources at the agency – the creatives, art directors, graphic designers, web designers – put their heads together to conceptualise the Mandevu brand in 2016. They designed its product's minimalist packaging, its interactive website and social media reach and visibility.
Njoki has both feet planted in both their digital agency and in Mandevu.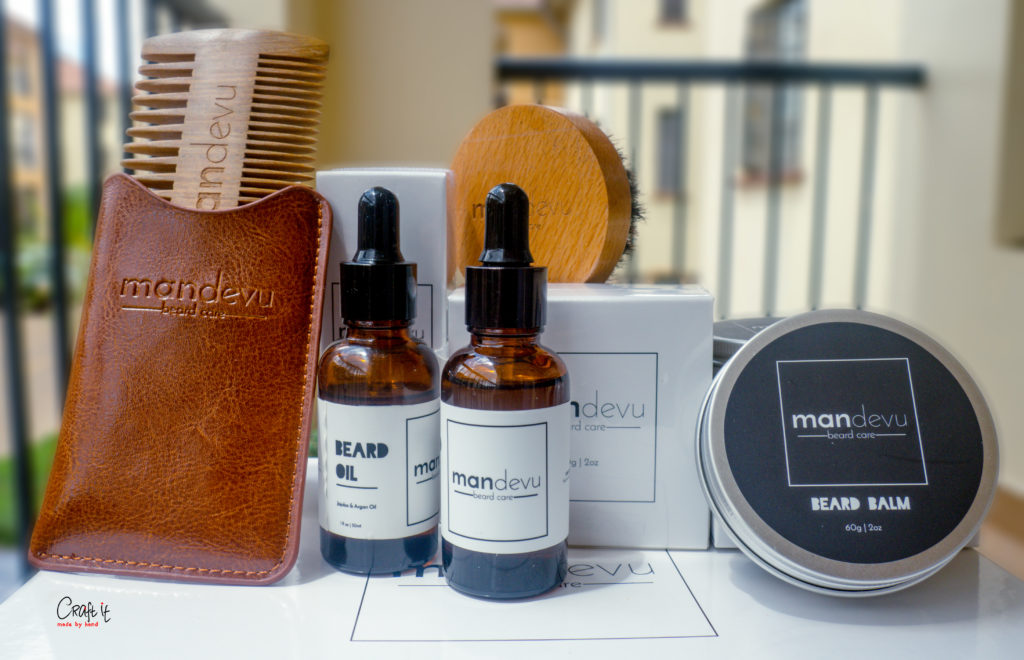 The packaging for all Mandevu products is simple and minimal. We found from our little research that men want simple and minimal, says Njoki.
The products are in a travel-friendly size because the men whom Mandevu calls its audience are conscious of how they look – so they go to the gym, they travel and they want to have their grooming tools with them.
The products had to look simple to the eye and simple to use because it was a challenge asking men to add beard grooming to their morning routine, says Njoki.
Mandevu Beard Oil is for the skin and the beard. It's an oil so it penetrates the beard and into the skin. Two drops every morning is all a man needs.
Mandeveu Beard Balm is also for the skin and the beard, but it has a better hold than the Oil because it has beeswax. Njoki says, "If you have a bigger beard or muhindi beard, you'll apply the oil and it'll stay put but by midday the hair will start to fray. But when you use the beard balm it will stay like that the whole day."
The Beard Oil and Beard Balm moisturise the beard and keep it soft. They also calm the itchiness from shaving pimples and beard dandruffs, it prevents dandruff build-up.
The Oil is unscented because men don't want to be overwhelmed with scents, says Njoki. "But more and more we're finding men saying, 'please add a scent', 'please add something.' So we added mango and orange to the butter. Light scents."
Mandevu Beard Comb and Beard Brush is used to style the beard and keep it down, it also spreads the oils and butters. "A brush styles better than a comb," Njoki says. "A brush also works better for shorter coarser hair. We advise our clients to have dedicated grooming tools for their beard and for their hair 'cause you don't want to take what's in your hair and put it in your beard."
The Comb is made from wood. The Brush is made from horse hair. They're made by a gentleman in Kabete. He's a stubborn old man, typically, but he's consistent in his craftsmanship and dependable to deliver the products. Dependability with suppliers had been one of the initial hurdles for Mandevu, says Njoki.
The leather pouch for the Comb is from a tannery in Athi River.
All these accessories are made by hand and in small batches for quality control.
The metallic tins for the Beard Balm are from the UK. The bottles for the Beard Oil are sourced locally, the teats are from a chemist.
The method to using the Mandevu Starter Kit is to wash your beard with the Beard Wash, pat it dry then apply the Beard Balm or Beard Oil to lock in the moisture. Comb the beard with the Beard Comb or Beard Brush, comb/brush in the direction the hair is growing.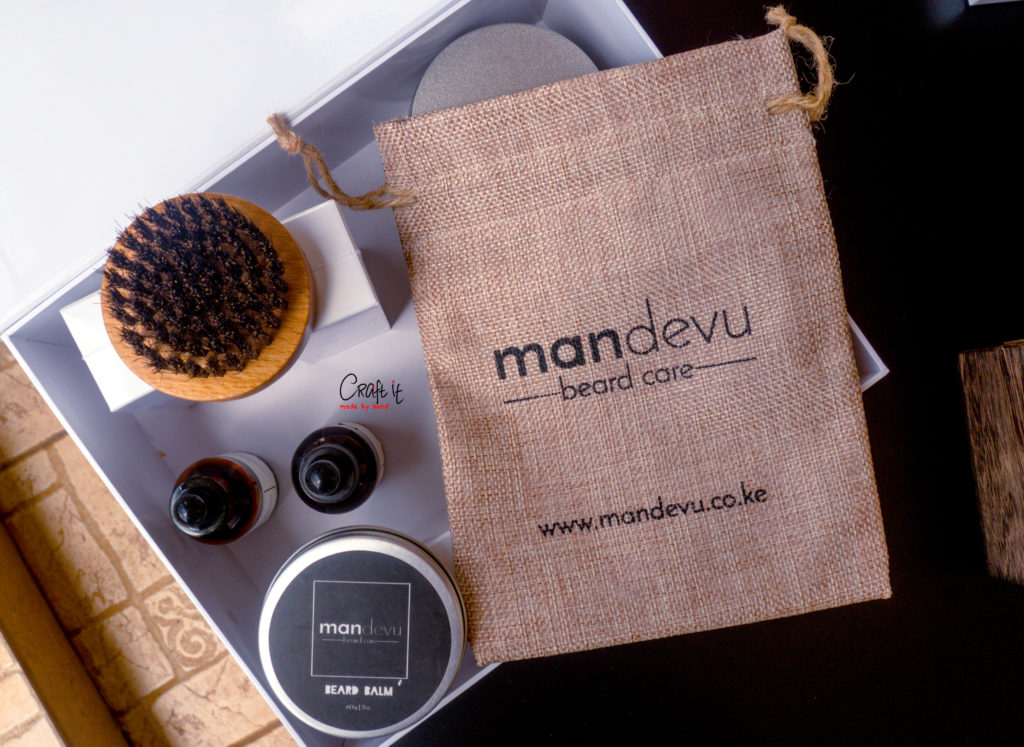 "What can't your oils and balms do for a man's beard?"
Njoki pauses to think about my question. She finally says, "It's not a magic grow. I don't know if that's a good thing..? But, I always tell my customers and my readers that if you take care of your beard, your beard will grow. No one oil will make it grow, but if you oil and comb your beard every day, if you're not touching it and pulling at it – if you keep your hands away – even from within, you'll see a big difference. But he must also have a beard gene to grow a beard. I always say, my partner can grow a beard, my brother can't."
"What makes you happiest when you look at your client's beards?"
"When it's well-groomed – they've oiled it so it's not dry, and they've brushed it and styled it and it doesn't look scruffy."
I ask Njoki about logistics of deliveries and online purchasing. She says, "Barbershops are the best conversion points. The barbershops we've partnered with are Castro's Man Cave in Queensway House, Ruaka, and Kiambu, other barbershops in Westlands and Kilimani, and select barbershops countrywide. They also serve as our collection points if you don't want to be delivered for. 'Cause there's a mistrust between Kenyan brands and Kenyan buyers for online shopping.  'Are you sure you're going to deliver?' Or, 'Do I have to buy online?'"
"Which local products compete with Mandevu?"
"Who, Gillete?" Njoki titters. "We like to think that men who shave their beard are our biggest competitors. There are no direct competitors, really, there are people who make beard butters that are just as great and they use different ingredients. Such competition is good for the market, and it gives the clients choice."
~
What Mandevu offers
– Beard oil: Sh1,499
– Beard balm: Sh1,299
– Beard comb: Sh999
– Beard brush: Sh699
– Beard wash: Sh999
– Wash bag: Sh999
– Beard care set (has all the above): Sh5,700
– Beard grooming kit (has all the above except the wash and brush): Sh3,500
Reach Njoki of Mandevu
Phone number: 0799-139959
Email: [email protected]
Website: www.mandevu.co.ke
Facebook: The ManDevu BeardCare
Instagram: Mandevu Beard Care
YouTube
Watch the video on our YouTube channel here (uploading soon) >> Njoki of Mandevu
Photo credits: All photos (except where stated) by Aegean Will, for Craft It.
Image copyrights apply. None of these photos should be used elsewhere without the express permission of Craft It.
20