BY FLORENCE BETT
MARCH '17
Wallace asked me to meet him at the gate of Toyota, the one on Church Road in Westy. We agreed to meet at 11.30AM.
As I stood at that gate waiting for him to show, I felt in my bones the tingle of a being in a moment that was a prelude to the pivotal one that lay after it, one that was innocuously laying in wait for me to experience in all its entirety. Like something of a sneak attack. I felt the flutters that begin as isolated and gentle waves of energy that slowly glide toward one other then loop their increasing frequencies and direct their forces into this glowing fiery ball of raw power. I was on the brink of something ripe, something so unaware of its brunt that it was fascinating how casually I walked into it. It was a before-and-after I was oblivious to, and a beautiful one at that. Looking back now, I wonder how different I would have faced the day had I known this.
I had my brown leather bag by the straps in my right hand, and my camera slung in its case over my left shoulder. I was wearing a white vest and some blue Aztec-print pants that my baby sometimes confused for a play mat. I was an effigy for the urban creative.
**
I had stumbled upon Wallace from his Instagram account, from a curious and trivial pursuit, actually. One of those loose afternoons where I burned time hopping about social media for some unknown relief.
One of his creations – a travelling bag – was in the timelines of one of the people I follow (ms_kadonyele) and she'd tagged him. Like a detective sniffing out a lead, I double tapped on her pic then followed the tag to Wallace's page. So, you know how folk say that I don't know what I want but when I see it I'll know? Yeah. And so it were for me, and Wallace and Eden Leather.
Wallace and his leather products were the embodiment of a brand I was conceptualizing at the time. A brand called Craft It, where I wanted to write stories about Kenyans and the stuff they make by hand. I only didn't know where to find these craftsmens. I'd also just started writing for Business Daily at the time; I was a contributor to the Tuesday pullout, it features entrepreneurs. Meeting Wallace for this feature would be a double-win for me.
I dialled the number he'd left on his profile, he picked up on the third ring. His voice was deep and guttural, his responses terse and somewhat rehearsed, like maybe he'd answered such questions countless times before. I asked him about his brand and told him that I'd like to interview him as an entrepreneur for a feature in the Business Daily. He said sawa. I asked a few questions about the business and where the products were made. He said Ngong Road. I told him that I'd like to have the interview there, so I can see how it's done. I heard him nodding into the phone, "Let's meet in Westy then we drive down together." I said cheers.
So there I was a few days later, waiting in Westy by the gate of Toyota.
**
My phone buzzed in my hand, it was Wallace. "I'm coming from the pink building behind you," he said. "Turn around." Wallace rolled up in a blue old-model Premio. One of those that are fuelled by a liberal mix of old-soul wisdom, motoring sturdiness, adventure and nostalgia. The seats were made of cushiony velvet and smelled of the weekend.
Wallace started talking before I'd belted in and fished out my notebook. Before we'd shaken hands and introduced each other, before I'd officially launched the interview, Uhuru style, hehhe. "Our workshop is on Ngong Road," he said as he pulled in to the Highway. "Hapo near Dagoretti Corner, that's where we're going. We make all our products there."
"OK," I said. "What's the name of your business?"
"Eden Leather Goods," he said. Retro soul from Classic FM punctuated our conversation; Whitney Houston's 'I'm Every Woman' was playing.
"When did you start Eden Leather?"
"In February 2014," he said
"Why?" I asked, furrowing my brow.
"I started my business because I was frustrated at not being able to find quality locally-made leather bags that were affordable. The ones I could get were the cheap imports from China, the ones made from plastic and leather." I offered him word 'pleather' at beamed proudly at myself. "Yeah, pleather," he said, cracking a small smile as he took the word. "And it's not like they were very cheap. So they'd start to tear after using them for a few months. The bags that were 100 per cent leather and were locally made …" I think of an established competitor, "… were pricey. I couldn't afford those. So I started the business to fill that gap."
Wallace changed gears as we whizzed past James Gichuru Road in Lavi. I asked, "So what was that pink building about?"
"I work there," he said. "I'm the Creative Director at MoSound Events." I look it up later; it's an events planning and management company. When I asked more about his background, he said, "I've been there for ten years, since I graduated from school in 2006. I have a diploma in graphic design from the Academy of Graphic Technologies. Yeah, yeah," he added agreeably, "Eden Leather is my side-hustle."
"What do you guys make?"
"Belts, wallets, carry-goods…."
"Where do you get your leather from?"
"From Sagana," he said. "When I started the business, I used to get it from tanneries in Athi River. Then I discovered one in Sagana. I prefer their craftsmanship and how they treat and dye their leather. And it comes in colours so it adds variety to our products. They come in colour green, blue, tan…"
"What's the signature colour for Eden Leather?"
"Chestnut brown," he said. "We're working to get our own signature design."
Chestnut brown, I liked how that read. "So how much cheaper is it in Sagana? How much does a square foot of leather cost?"
"I buy 600 square feet for 150K," he said. "I used to buy it for much more than that. I like to go to Sagana myself so that I can choose what I want. Plus I usually see something else I like and I end up buying it as well. I make the trip atleast once every month, sometimes less. I was actually down there last week, I still have the rolls of leather in my boot." We chuckled. He continued, "Since sometime late last year, I've been accessorizing our products with other materials like kitengee and sisal. It's fun to experiment with these materials plus it adds value and lowers the cost of the products because these materials costs much much less than leather."
Traffic had snarled up as we approached Nakumatt Junction. Wallace continued, "I've also been experimenting with waterproof canvas. Here are the samples." The swatches were sitted in the little drawer beneath the stereo. They'd been stapled together, like a booklet of sorts. "We've been making bags with the traditional green canvas but this waterproof canvas doesn't fade like that one. You must have seen that green canvas on many bags." I have, mostly with my kid bro. I also immediately think of my Ol'Man and his Isuzu pickup; the one that he bought to transport supplies for the agrovet he once run in Sotik, and the green hema he'd knot around the back of the pickup to cover the supplies. Wallace went on, "So waterproof canvas is as touch as the regular canvas but it doesn't fade after it's washed. Plus it's easier to clean, you just wipe it. Then it comes in these bright colours like green and yellow."
I returned the swatches back to the drawer. The story was piecing itself together, I liked this. "What was your starting capital?" I asked.
"500K," he said. "I pulled it from my personal savings. I got burned in our first year of business cause we were doing a lot of sampling for the products we wanted to make. Then we had to penetrate the market in that second year. Kenyans love quality products but they don't want to pay for it. Someone would ask about the prices of our products, say a wallet for 3K, and they'd wonder why we were charging them almost double for something they could easily get in tao for much less. But they don't understand that this is 100 per cent leather, and whatever they're getting at half that price is imitated leather. Pure leather ages with time and won't tear."
That reminded me of some brown second-hand belt I bought in Toi Market in 2003 for 100 bob. I'm still wearing and it doesn't look like it's about to cough up and die on me anytime soon.
Wallace continued, "But I'm really glad that more and more people are becoming aware of why a bag, wallet or belt that's 100 per cent leather would cost that much. People are buying more now."
The noonday sun was pouring in through my window and illuminating Wallace in a stark unforgiving burn. I was furiously scribbling in my notebook, catching highlights of Wallace's story as he spoke. I asked, "So I'm guessing that you're the one that designs the products?"
Wallace said, "Yeah, I do all the design work and sometimes with input from the client. I have a team of three guys, they're the ones that do the stitching and installing the hardware on the bags and belts. It was difficult at the beginning, getting employees who share my vision. There was a lot of training involved at the start, especially with getting them to pay attention to the details in stitching and in clean finishing…" Wallace exhaled. He seemed thirsty from all the talking. "But I found some great guys to work with now. They're three guys, I've been with them for two years now. Mark, John and Ephantus. You'll meet them at the workshop."
Out of curiosity, I asked, "So how long does it take make, say one bag? How much leather does it need?"
"It takes three to four weeks, depending on the detail of the work and other orders we have already," he said. "But to prepare the leather only takes two weeks."
**
We were at Dagoretti Corner now. We turned left into the dirt road opposite Seven Degrees bar, drove in and took a few turns further in. It was a hubbub of dust and heat, car garages, makeshift bars and kiosks, and tightly-knit apartment blocks. There was indistinct chatter from all around me. Wallace parked his car in what felt like the middle of nowhere. We got out and went into one of the structures a stone's throw away; it was a container stacked on top of another container, making it have the feel of a business centre. The workshop-come-production house sat on the top container, up some uneven plank-wood stairs. Their next-door neighbour was a seamstress, one of the others downstairs was selling fruit salads and another, spare parts for cars.
I asked lightly, "My goodness, do you bring all your clients here?"
Wallace snickered. "I'm going to move soon, to someplace that's more convenient and fitting for my clients. Right now this is what we work with."
Inside, the container smelled of leather and glue stitched together by artistry and creativity. Samples of bags and other products had gathered dust and were strewn all around the workshop. It was a quiet day so his team –Mark, John and Ephantus – were laying about and waiting for us, it seemed.
I set my stuff down on the work counter and set up my camera. I said to Wallace, "So you'll take me through the process then we'll do some photos, OK?"
Mark, the head of the team, made a cardholder to show me how it goes: A master design of the product is measured and cut on manilla paper, then it's layered onto the leather for the leather to be cut as measured. The cut leather is taken through the skiving machine (the part of the leather that will be folded is passed through this skiving machine to relax the leather and make it easier to fold and stitch. This stage of the process can be skipped for some products). Next, it's stitched together on the sewing machine, that's where the bulk of the work is and the most intricate of the process (there are two sewing machines in the workshop). Once it's sewn, the almost-ready product is put under the embossing machine (it's uses heat to impress the 'Eden Leather' logo into the finished product. This process may sometimes come before the stitching for some products.)
Mark runs the skiving and embossing machine, John the sewing machine. Ephantus supervises production and controls quality.
I turned to Wallace and asked, "How long has it taken you to buy these machines? How much did they cost?"
"Pole pole tu," Wallace said. "Some from my savings when I started then I've ploughed back my profits to buy more. The sewing machines were 200K each and the skiving machine was 250K. Both were from Inda [Industrial Area]. The embossing machine was 350K, I imported a refurbished on from the UK. I've pumped in some more money to buy a machine that will change how we accessorize some of our products. I pumped in about a milli," he says when I ask how much, "but I'll keep that under wraps for now."
As I went around the workshop taking photos and absorbing its implements and energy, I saw the gentlemen hurdle around my bag and study it as if it were some odd object that had landed from Planet Zob – they zipped and unzipped it, examined the hardware and the flap-at-the-front detail, felt its weight and spoke in low agreeable voices. "I got that from Toi market five years ago," I offered uselessly. Mark turned to me and spoke up, "Ulichagua poa." I smiled back like a needy child.
**
It was 12.45PM when we wrapped up and drove back to Westy. I had so many more questions for Wallace. "So who are your main clients? Do you get more corporate clients than individuals?"
"I have both, actually" he said. "Corporate clients are good for business because they buy in large volumes. Individuals buy one one piece but they buy more frequently. A combination of both is good for sustaining the business. I've made laptop bags for Safaricom and these satchels for some NGO called Acumen. I've also made menu-holders for some restaurants."
"And how many units do you sell, say in a month? What's the most popular product?
"About 50 units on average," he said, bobbling his head as he weighed the accuracy of his estimate. "Most popular is the laptop bag."
We were silent for a few minutes as the radio played on. Wallace caught his breath and I examined my notes thus far. I was famished.
Carefully, I asked, "You are giving so much to your business, time especially. Surely, your girlfriend must have left you?"
Wallace laughed. "Well, there's really little time left for relationships now. Like this meeting we've had, I've had to meet you over my lunch break and now I must get back to get work finished. My bosses have been very understanding and supportive, especially in the early years as I was setting up. Plus they've been buying my products…." He drifted off. "We're like a small family… But, you know," he shrugged his shoulders, "your job is your job."
We were at Gitanga Road now, approaching Lavi. I was going over my notebook and structuring the story in my head when I realized a grave omission. "Sorry, what's… what's your name?"
We laughed. He said, "Wallace Waiguru Kamau."
"Any relation to…?"
"Nope," he smiled, "none whatsoever."
"How old are you?"
"31."
Wallace dropped me at the Java at Shell Kile and he drove off, back to his pink building and to his desk. I wonder what he had for lunch. I found a quiet corner at the balcony, overlooking Arboretum, had a fruit salad and read a book until the sun dipped and the air chilled at dusk.
**
Wallace's story run in the Business Daily a few weeks later, on April 11. It was a much skinnier version of this story. Wallace was happy about the coverage, I suppose; he put an image of the newspaper page up on his IG and everyone that day went to bed happy.
In the months after, I got requests from my pals to get in touch with Wallace for bags. That warmed my heart. And as I was developing the concept for this brand – Craft It – it's Wallace and Eden Leather that aligned my compass. I feel that I owe him. I quietly followed him on his social media to see what he was up to: Wallace collabo'd with John Kaveke, owner and designer of a bespoke men's clothing brand by the same name, and had some bags showcased at New York Fashion Week. He also had bags featured in some local magazines. Later, he started tailoring made-to-measure bomber vests.
His 'locks grew longer while at it.
**
AUGUST '17
Wallace opened an outlet where he stocks his products; you don't have to go to the workshop at Dagoretti Corner to find him. His shop is located on Kiambu Road, at one of the shops-for-hire at JCL Motors. You can't miss it.
What Eden Leather offers
For the guys
– Belts: Sh3,000
– Wallets: Sh3,000
– Laptop bag: Between Sh15,000 and Sh17,000
– Travel bag: Between Sh7,000 and Sh30,000
– Messenger bag: Between Sh15,000 and Sh17,000
For the gals
– Wallets: Sh3,000
– Clutch bag: Between Sh5,000 and Sh12,000
– Tote bag: Between Sh10,000 and Sh15,000
– Messenger bag: Between Sh12,000 and Sh15,000
Reach them
Facebook: EDEN Leather
Instagram: Leather by Eden
Cell phone: 0703908534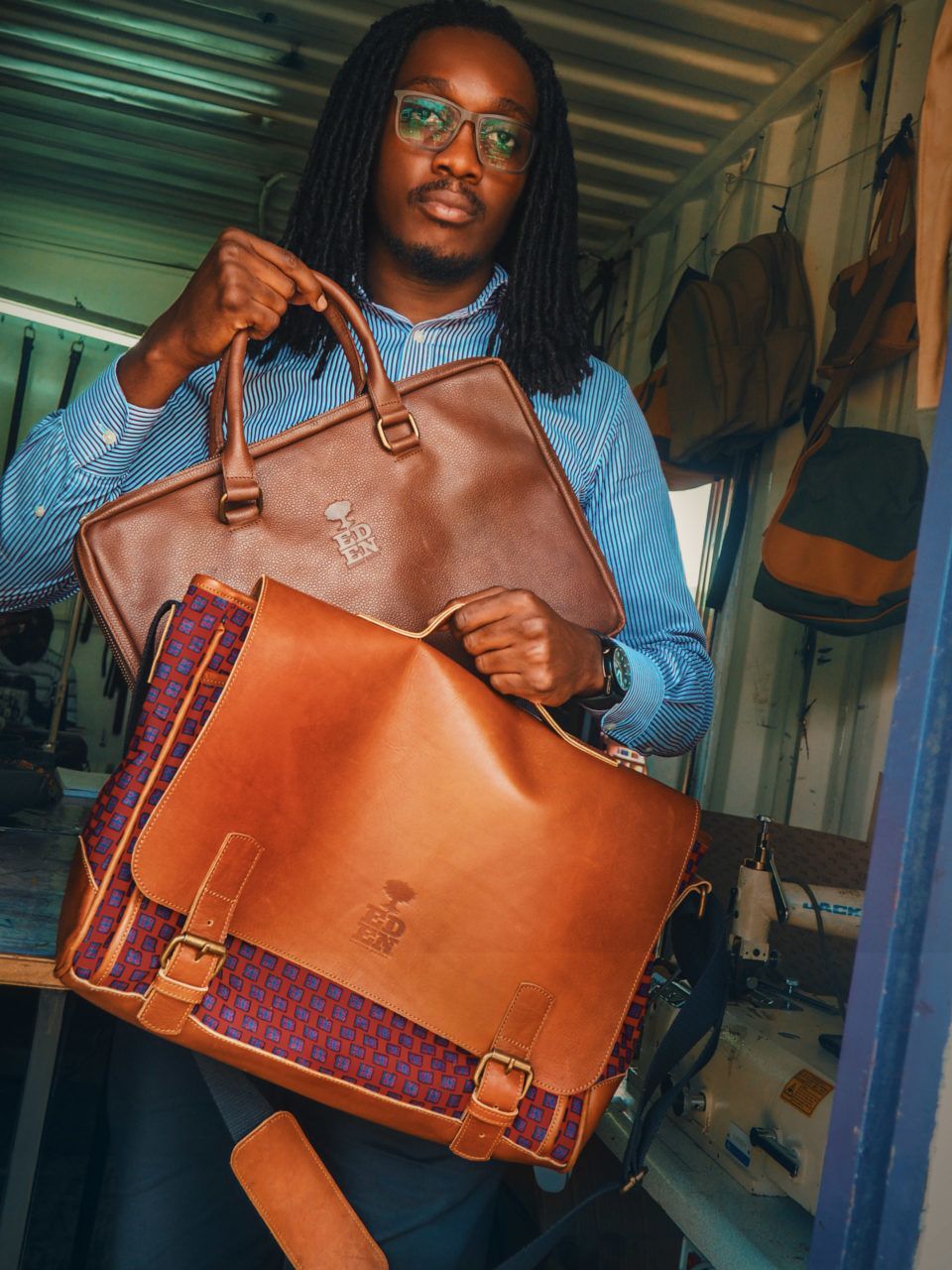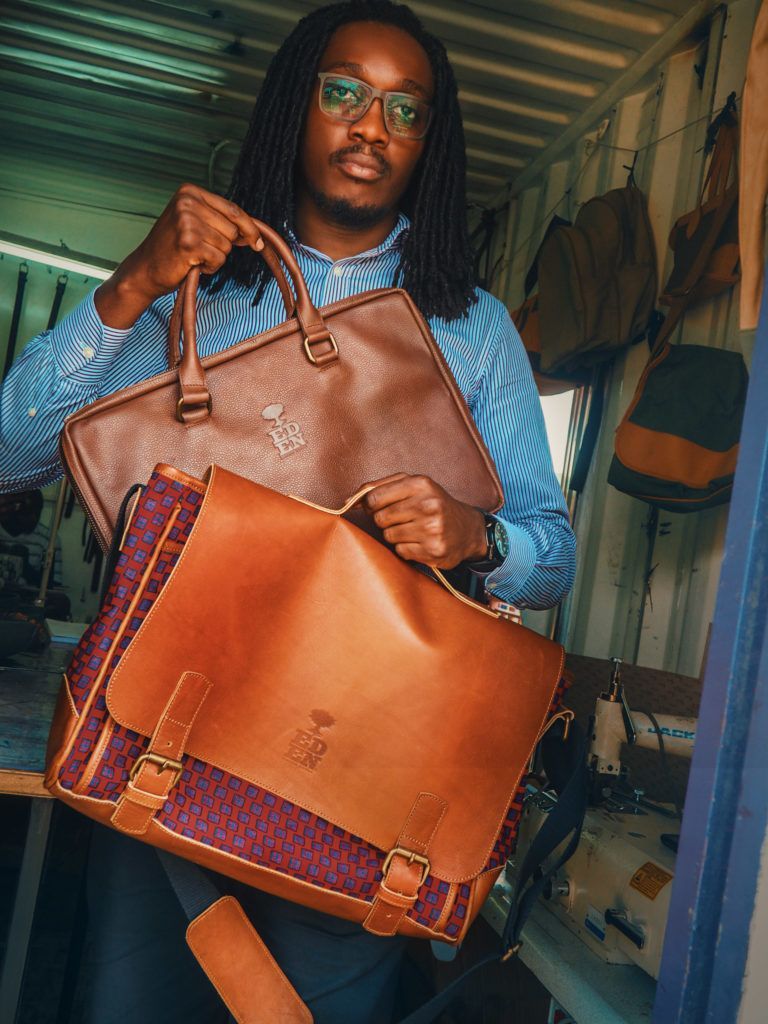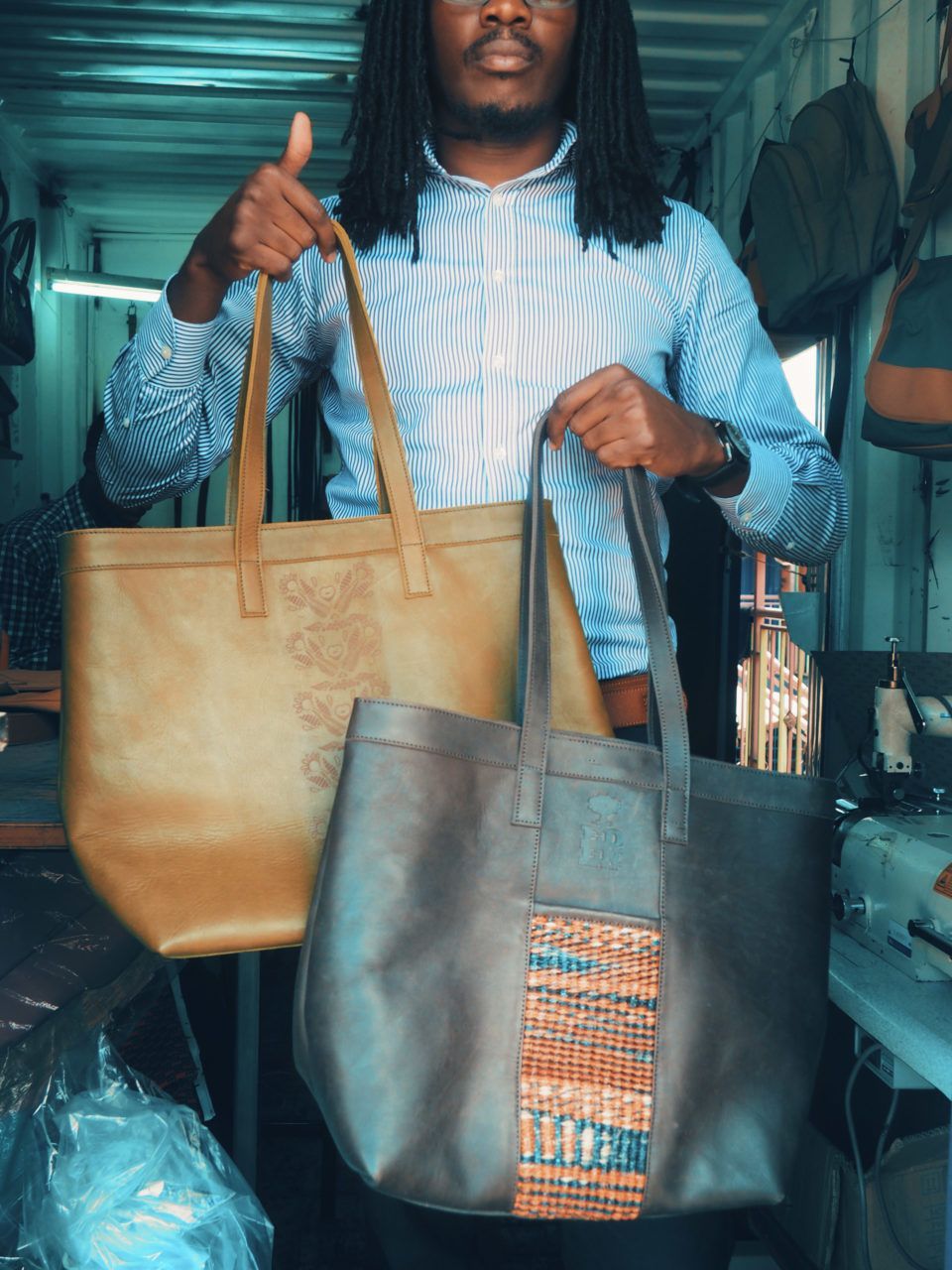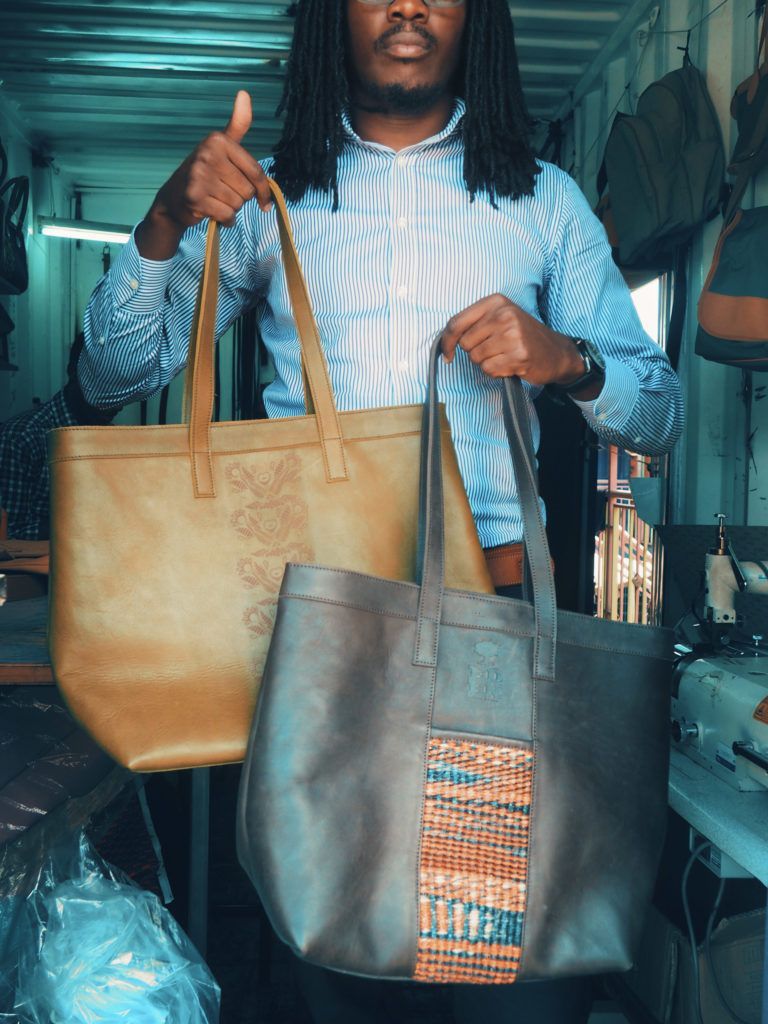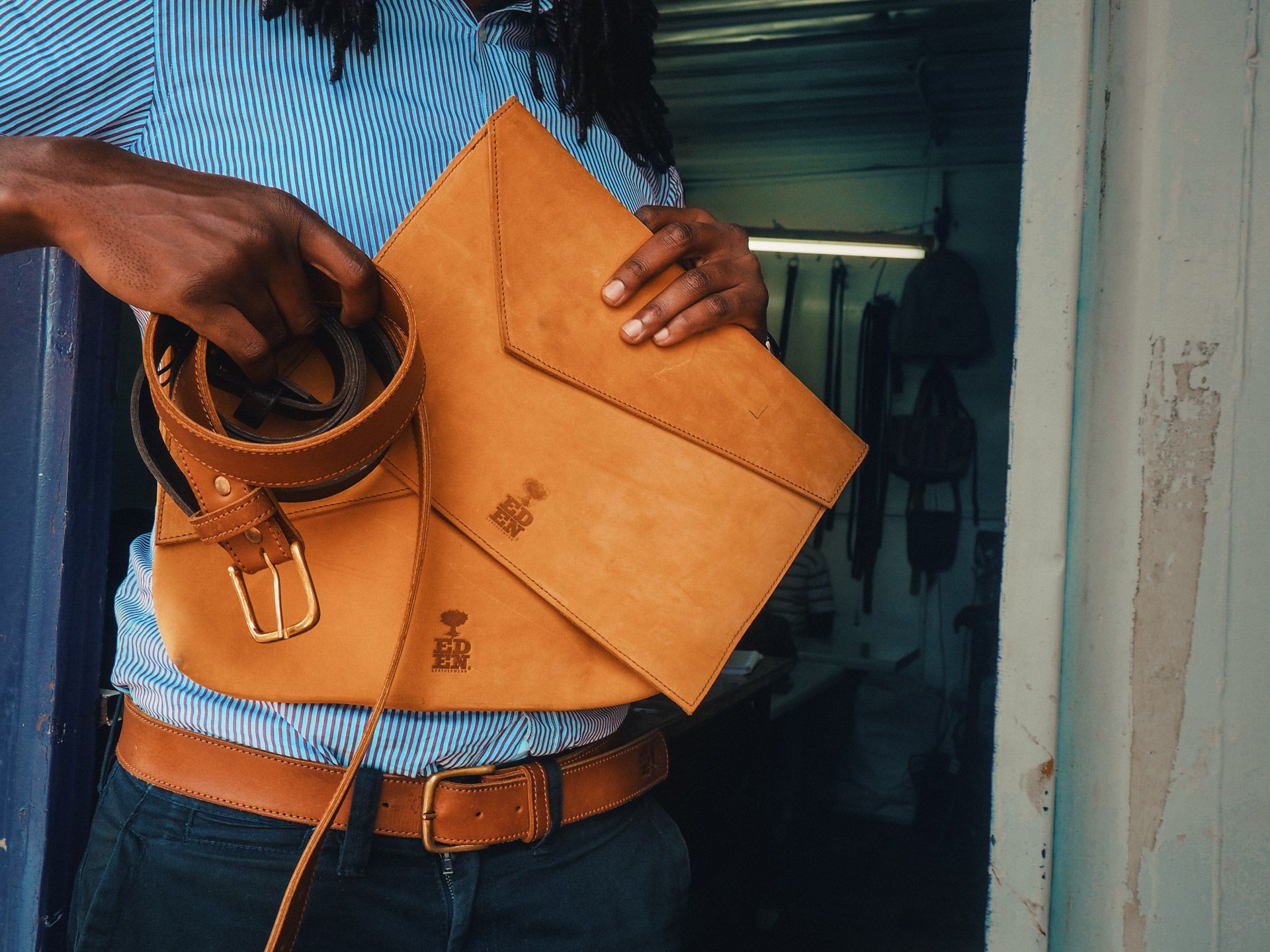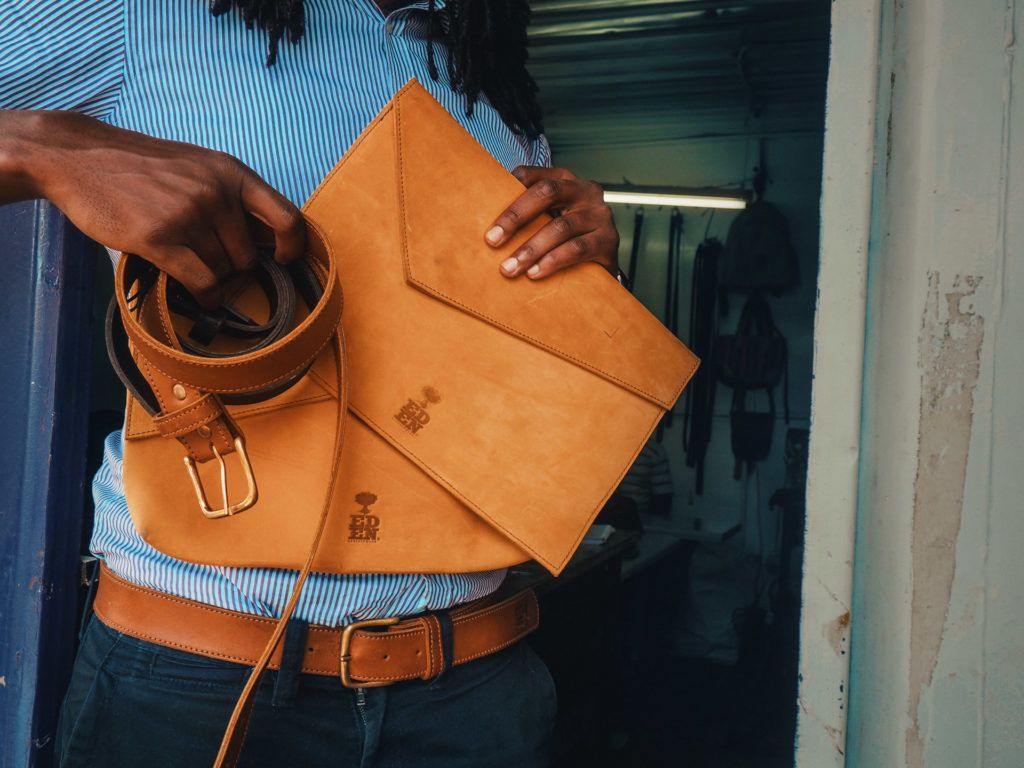 32