BY MIKE MUTHAKA 
On December 3rd 2016, after six years of courtship, at Blessed Sacrament Church, Buruburu–in front of friends and family—Patrick Njuguna, alias Patoh, wed Mary Rita Njoki.
He was only 24.
"We've known each other for a long time," Patoh says, "I started having feelings for her in high school; although I had feelings for every girl. Hehee.
"I made the move on Njoki on 20th October 2009. We always remember that date. It was just before she started her KCSE. We were in church for an evening mass, under a tree. That tree is still there by the way."
Patoh had said, "I'd like us to be more than friends."
Then Njoki said, "Which means?"
And Patoh said, "Si unaelewa tu."
And Njoki said, "Sielewi."
"It was a beautiful moment. My mom said our relationship would work because we were taking so much opposition. It was us against the world. In church people would stare. Ati holding hands? That was unheard of. But I think we were also easily influenced by the movies."
Patoh condenses a lot of his life experiences into moments, and for someone who didn't expect to live past the age of 25, he's had plenty of them.
"I thought I'd die young, and maybe leave a legacy. Like E-Sir. Honestly everything that has happened after 25 imekuja as a surprise."
At 19, shortly after high school, Patoh recorded his first music album, 'My Inspiration, My Paradise.'
"Until now I think that was my best work. I was so young. The songs were very mature. Kwangu it's a Patoh Njuguna masterpiece."
Then in 2011 he went to Brookhouse, to study business and technology in music. It was there that Patoh would meet his song writing teacher, Eric Wainaina.
Together with Frasha they made 'Disco', Patoh's first music video. Since then Patoh has recorded more than 30 songs and one extended playlist (EP) titled 'Tembeza Nyani'. His loyal fans are aptly called 'Patohriots', and he keeps in touch with them via Whatsapp, in a group called 'The Patohriotic Movement'.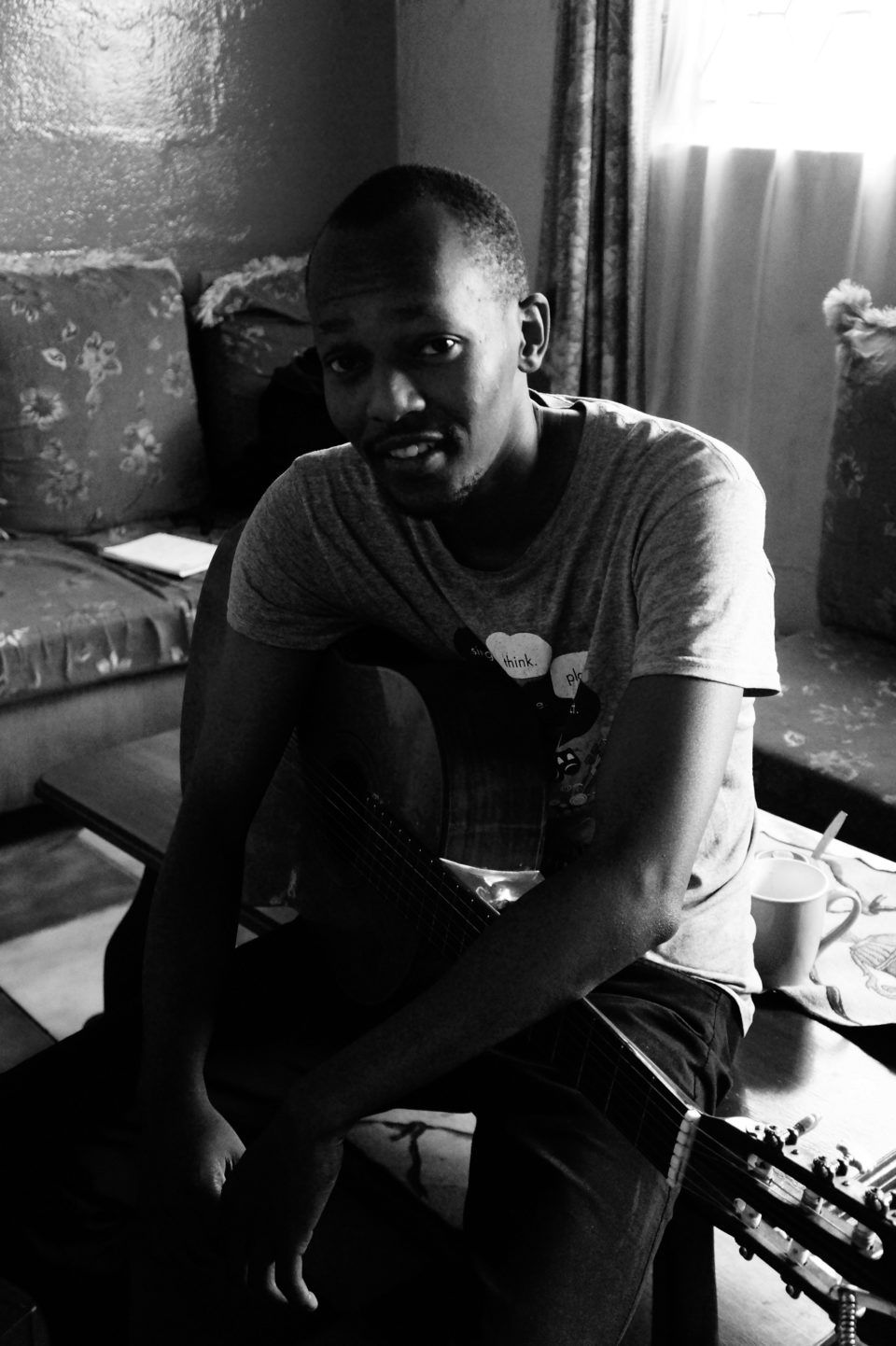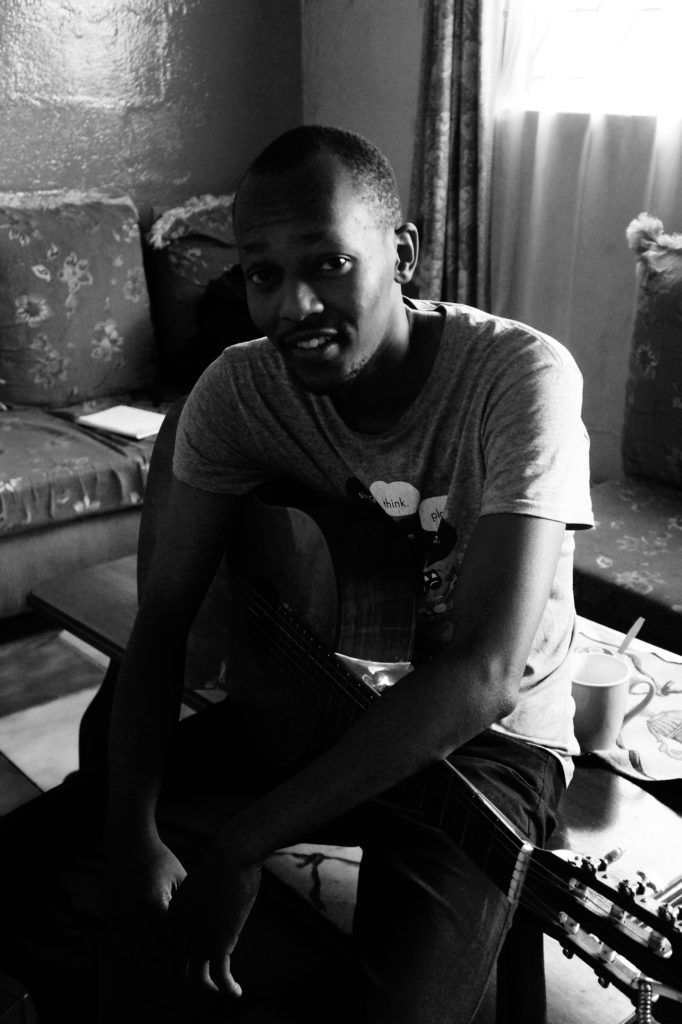 Today Patoh is 27 years old; a Nairobi millennial, a struggling but passionate musician.
He's perched on a sofa in his Mom's living room. He's just come from music practice, where, along with three other friends, they played with horn instruments – the saxophone, the trumpet, and the trombone.
He practices at least twice a week.
"I forgot to carry my guitar," he tells his Mom, "so we had to do acapella."
Patoh is the first born of three children. His slim upper body is perpetually turned towards his seven-month old son, Yohana Leshan Nderi. It's almost like he doesn't believe this is his kid. The baby is chubby and topless. His diaper sticks out above his waist.
Also in the room is Patoh's sister, Soffie. She lolls about on the floor while humming to 'Lokote'. Their mother, Susan Njuguna, watches them in silence, like a lioness and her cubs.
Little Yohana is on Susan's laps, trying to reach for her soda bottle. She distracts him by singing, slowly rocking back and forth. She babysits for Patoh when he's not around.
It's a sunny Thursday afternoon in Uhuru Estate. Patoh's acoustic guitar leans against a cupboard. Atop the cupboard is a portrait of the late Patrick Njuguna, Patoh's grandfather.
Later, when we talk about his grandfather, Patoh's deep voice drifts into a calm space.
"I wasn't brought up with a father, so Guka alikuwa a huge part of my life. A lot of the things I know about manhood I learnt from him. I remember how much he loved Cucu. When her health deteriorated, he'd cook for her. You could see the love. He'd walk so far to buy pork for her. He was strict with church. He made me get into the Neocatechumenal Way. In terms of faith he was everything to me.
"I became who he was in many ways. After he passed away I didn't cry. It wasn't a moment to cry. He was prepared. And I knew he was in heaven praying for me. I got renewed strength in my faith and everything I did. I felt him. And I really wish he'd lived to see Yohana."
"Do you think you love Njoki the way Guka loved Cucu?" I ask.
"Guka alipenda Cucu sana. I don't think nimefika hiyo level. I think it comes with time, because ata hao walipitia through a lot. Guka was detained when his first born came around, for example. I don't think tunaweza compare."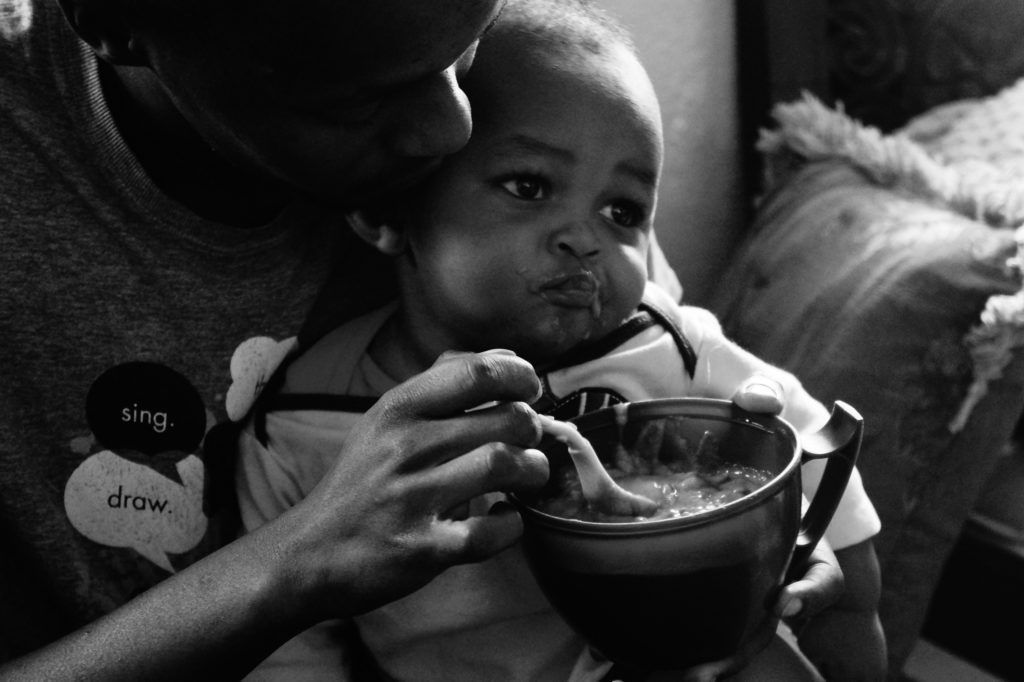 This interview was done over two days. The next day, Friday, I meet Patoh in his digs, in Jerusalem Estate, about a kilometer away from his Mom's place in Uhuru. Patoh is babysitting. Njoki is out shaking the bushes. Yohana lies next to him, ignoring the blue bowl of porridge on the table.
You first see a painting of the 12 disciples when you enter into Patoh's living room. The painting is dubbed, 'The Sermon on the Mount', and the disciples look like unwashed hippies.
Then you notice the wedding photo in the corner of the room; Patoh and his lovely bride, gazing into each other's eyes – Patoh in a bowtie, Njoki in a silk gown, Patoh's hand on her waist.
In December last year, Patoh quit his 9-5 desk job at Sama Source to pursue his music dream. This would mean he becomes a stay-at-home dad.
How has this affected his self esteem as man of the house?
"Well, at the moment it's a bit new for me. It's only been a month. In December I had a concert at Garden City, and the pay has been keeping us afloat. This coming month, March, will be the first month that we totally rely on Njoki's salary."
He pauses and exasperates. "It's frustrating lakini. I can feel the pressure to provide. At the same time it motivates me to work harder. Every project I take on has to make financial sense. Now I'm more focused on making money off music, not just making music."
Have Patoh and Njoki argued about money? Does she understand how his passion for music will put food on the table?
"We spoke, and Ilikuwa difficult for us both. But nashukuru Mungu she understands, and she believes in the same dreams as me. But initially there was some tension, which I can still feel sometimes."
Now Patoh puts Yohana on his lap. Feeding time. He spoons some porridge and brings it to the baby's lips. But Yohana is not having it. He wrenches his head away, and Patoh says, "Ah, Yohana acha jokes."
They wrestle like this for a few minutes, and I briefly wonder what the disciples would have to say about them fighting over porridge. Maybe Peter would be like, "Hey, bro, if he says he doesn't want porridge, then don't give him the damn porridge."
Patoh places Yohana on the couch, gets up, and hooks up his phone to the radio. Music calms Yohana, Patoh tells me. Yohana particularly likes Nyashinski's "Finyo".
"I'm training him to be a musician," Patoh says.
"How?"
"Ata I don't need to train him. Anapenda music sana. If you notice even now he's dancing. After he was born, if you played loud music he didn't wake up. In fact if you want him to stop crying you just put some music. But kando na music atakuwa footballer. Atapeleka Harambee Stars World cup. Unaskia baby?"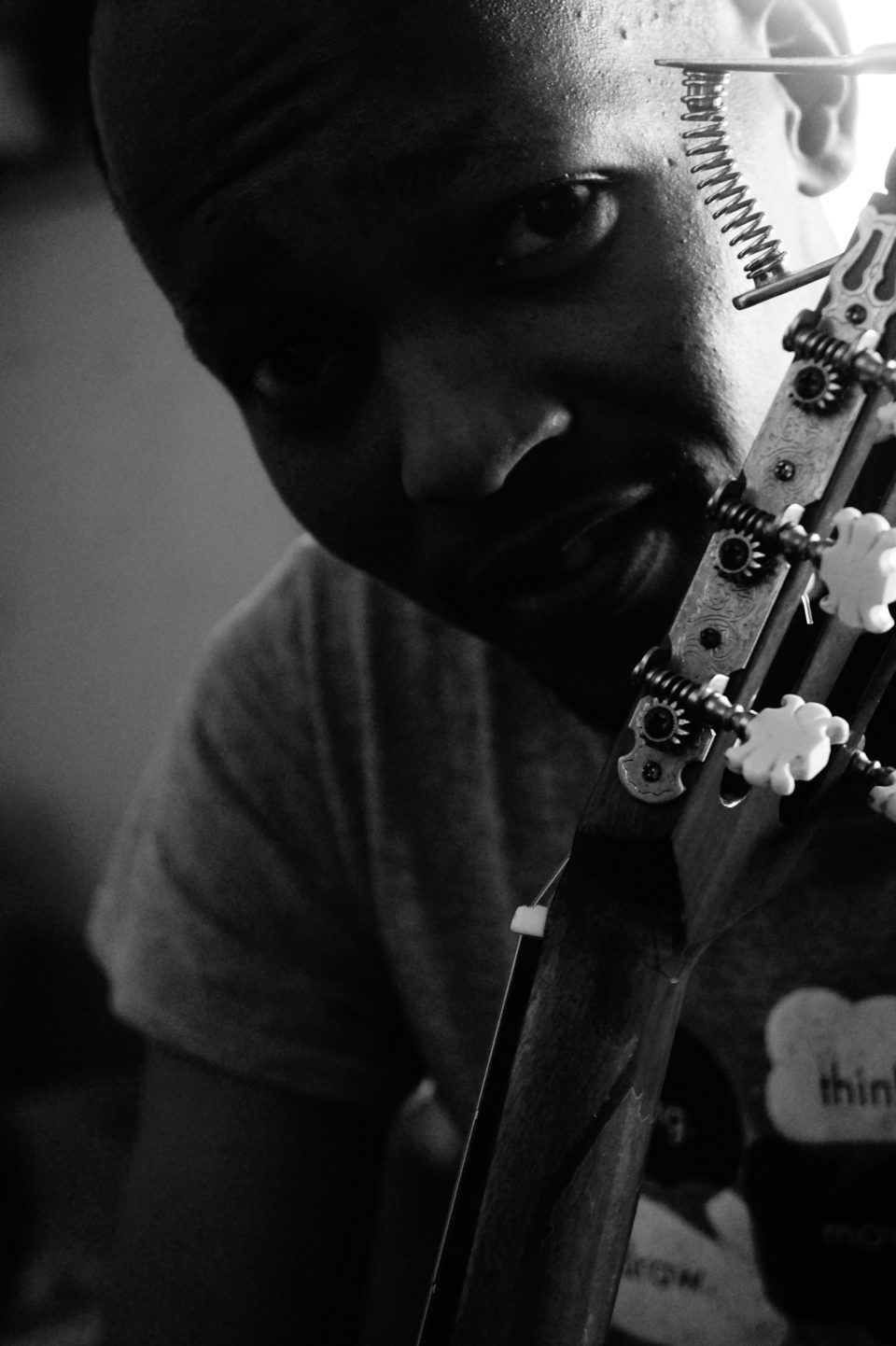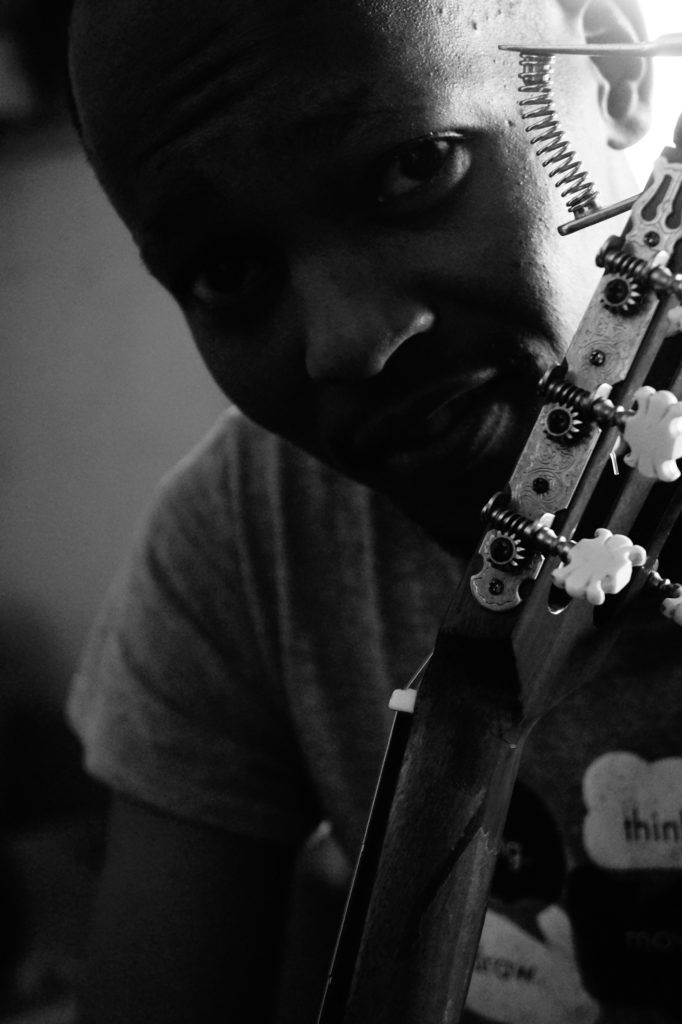 Still, Patoh worries if he's going to make it as an artist. He deals with his insecurities the only way he knows how. By praying.
"Njia [Neocatechumenal way] ndio everything kwangu. Imenisaidia kuona the important things in life. Imenisaidia kupata nguvu ya ku-live for someone else [Njoki and Yohana], because it's impossible to do that without divine help."
Yohana is crying now, working himself into a fit. He wants the milk bottle. His yell is a good decibel higher than the music. "Unalia nini baby?" Patoh says. "Unakuanga na tantrums sana." Then he sticks the milk bottle into Yohana's mouth, and the silence is so immediate even the disciples look pleased.
Patoh continues, "Monday tulikua tunamalizia 'Siri'. Actually inafaa kuwa ready by leo. No no, we were doing 'Kadem Kangu'."
(During our interview, while warms Yohana's milk, the producer sends the final version of 'Siri'.)
'Siri' and 'Kadem Kangu'are Patoh's latest songs. 'Siri'was inspired by Diamond's 'Bado'.
"At first I wanted to do a pop song. 'Siri' goes: Si mara tatu/si mara nne/mbuzi zuzu umefanya nifanane.
"Kusema ukweli 'Siri'ni reality ya wasee wengi. The person unapenda hakupendi back, unaget? Everything else was just for fun. Ata ukiiskia ni mambo ya ufala ufala tu. But every time I have to challenge myself."
'Kadem Kangu', on the other hand, is chakacha. This is not the first time Patoh has crossed genres. He has tried his hand at reggae ('It's You'), soft rock ('Dying Inside'), afro ('Nairobbery'), and hip-hop ('Damu Nyekundu').
Currently he's working on a new concept called 'My tribe, your tribe", a project aimed at helping young musicians run their craft as a business. In March this year Patoh will organize a pilot concert at Michael Joseph Center.
"Naona Mungu anapeleka 'My tribe, your tribe' in the right direction. I believe as a musician unafaa kuwa na your own tribe. The people who are completely loyal to you. Wale wanakupenda. Like Patohriots. People ambao, whenever ukona show, they'll turn up. If I start selling merchandise they'll be the first to buy, you know? And slowly the tribe will grow. It could explode and become something big, but it doesn't need to. Especially for live music."
We want to eventually be able to record songs, conduct practice sessions, and get the musicians to play at various events."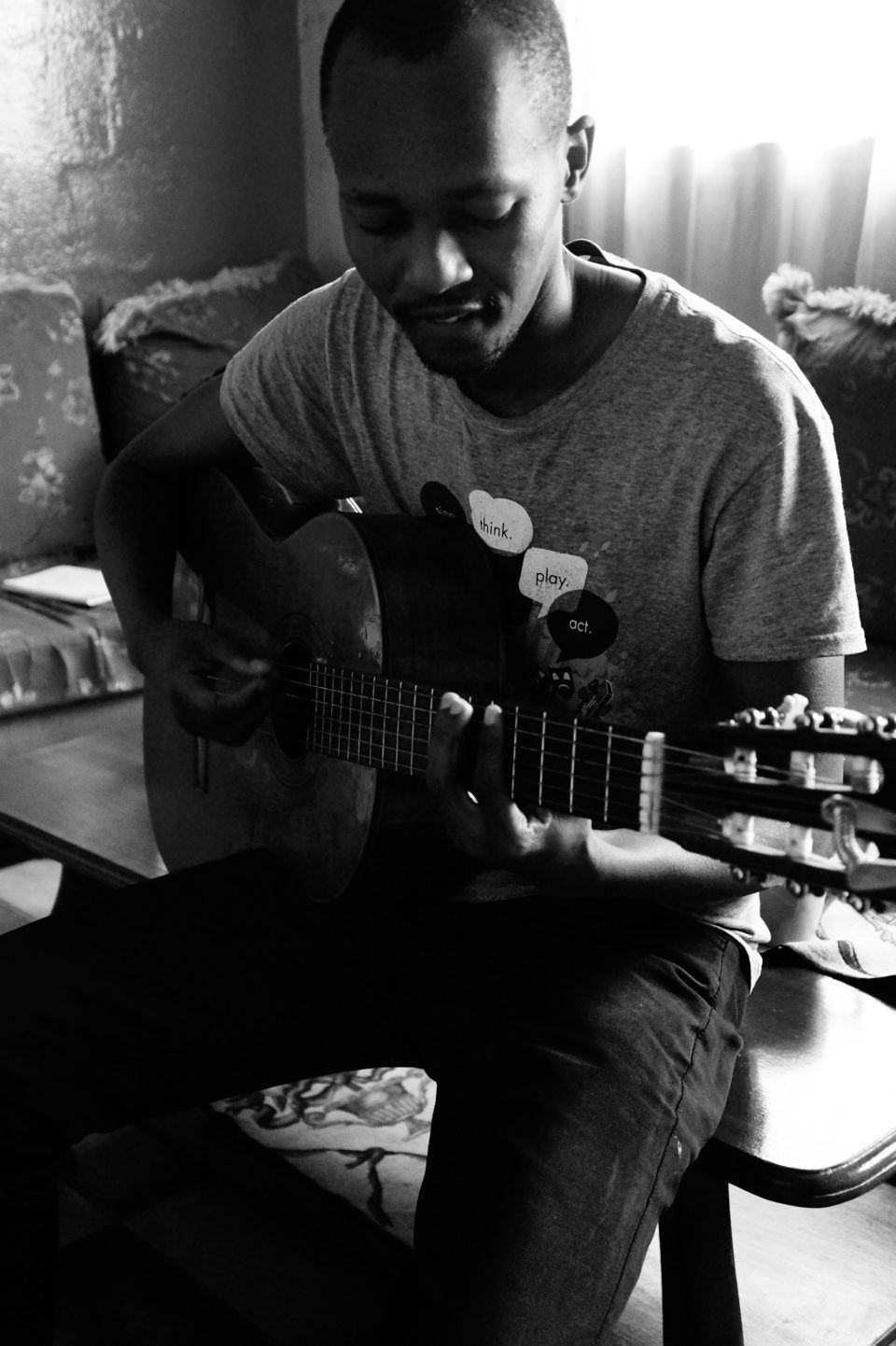 It's time for Yohana's nap now. He sleeps quicker if Patoh lies next to him. As I pack up my equipment, I ask Patoh for a parting shot, a word to his fellow millennials:
"The most important thing is to take one day at a time. Many times we live in moments that aren't there, in the past or in the future, then we forget to enjoy the present moment. You might be broke, everything looks like a mess, and you think maybe it's a test from God, but it's not necessarily even a test. It's just the perfect place for you to be.
"It may be a moment you think: I shouldn't be here. If you're going though something, that's where you should be. Kama sai I'm not where I want to be in my career, but if I sit around and sulk, it'll always be a bad moment.
"I'm proud of the small steps I've made. For example huyu mtoi, I can't complain ati he can't walk or talk. He grows every day, and it makes me happy. Things are opening up, and I'm thanking God for that. I feel like maybe this is the year of Patoh Njuguna."
*'Siri' is out on Soundcloud.
—-
All photos are by Mike Muthaka for Craft It. Image copyrights apply. None of these images can be used elsewhere without the express permission of Craft It.
Follow Mike on Instagram: mikemuthaka
16