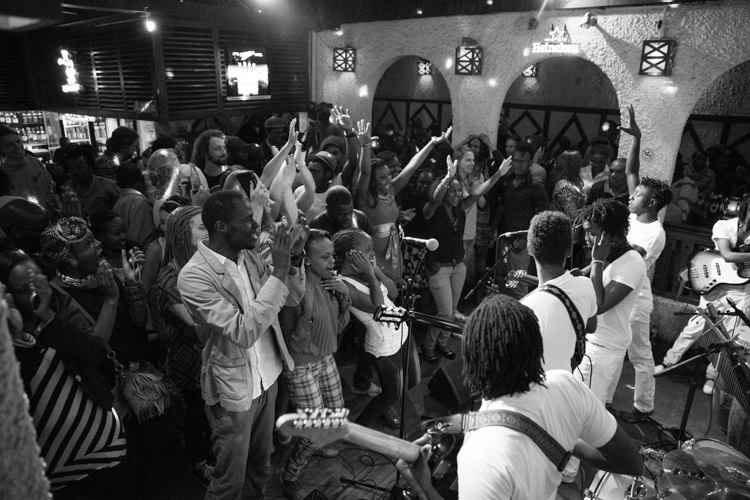 The excellent and terrible things about Choices Bar on Baricho Road teeter about its music and photography.
Choices is excellent for the soul they play on Tuesday nights. Music so soulful it begs for no conversation or company. Forget those washed out mixes DJ Adrian has been looping on Capital FM, every Sunday afternoon at 3PM, from since when I turned 19. Forget also that commercial bottom-shelf playlist Classic FM airs much to the public's delight. Soul music turns in its grave every time DJ Adrian or Classic FM call its music soul.
Back when I worked in Upper Hill, Thomas and I would nip in to catch an hour and half of their Tuesday mixes. A double at the bar before other suits checked in. It never got old.
Choices is excellent for its gallery of black and white photographs hanging on the walls along its entrance corridor. Photos of artists and of bands that suck you into the era of music they define. This fading gallery lends to Choices a familiarity that falls in the palm of my hand each time I walk in.
Choices has been gracious enough to add to its gallery the work of photographer, Paul Munene. Paul is the lens behind Quaint Photography. The photo I have hanging up there is one of Paul's masterpieces. Remind me another day to tell you his story.
Choices is excellent for its band night on Thursday nights. They call it Thursday Nite Live. Thursday Nite Lives peddles itself as 'a night of original acoustic, jazz and roots music by Kenya's finest artists'. There is no cover charge. It starts at 8PM.
These Thursday night gigs are put together by Roots International. Abdi Rashid of Roots sends an email invite every Monday before the Thursday gigs. The invite includes a write-up of the artist complete with links for YouTube video previews. Roots takes the extra step of sharing the artist lineup for the next four Thursdays. It's PR. It's events management. It's organization. Et cetera. Et cetera. I love it.
Choices is excellent for its ambience and intimate setting. But this is where it also goes wrong: Choices's low-hang ceiling and hazy yellow lighting and its door arches and its minimally spaced furniture work in its ambience's favour. But it's terrible for the band.
Before only last January, the band was squeezed into a corner on the first level of the establishment. Nothing separated the band from the rest of us. There was no stage; there was a carpet whose perimeter was just enough for the drummer and his drums. There was a dubious, I don't know, bed sheet hanging as the backdrop. This bed sheet appeared to have been temporarily thumbtacked to the wall for these Thursday night gigs.
But things got better this year.
Choices switched this dubious backdrop for a more appealing African print kanga in mud-brown that speaks for Thursday Nite Live's theme. The carpet was replaced with a platform. Its nothing flashy though. The platform gives the band a stage, and two inches of panning distance over the rest of us on the first level.
What Choices can't fix is the breathing room for the band's instruments. The intimacy of the establishment means there is not enough room for the instruments to sound as they should – if you listen close, sometimes, you will hear them struggling for air. And what could have been an anticipated crescendo turns in a embarrassing clang.
Choices did what they could – with Quaint's photography and with the kanga and with the platform – in the best way they know how. I mustn't lose sight of that.
*
Choices invites a variety of local bands and artists for its Thursday Nite Live gigs. I have attended more than half of these performances over the last six months with the noble intention of getting a story to write for this blog.
And on this Thursday night, I am here to catch Makadem, a solo artist with a travelling band. Before Makadem, there was Lulu and Zakaleo Band. Before them, Maia. Way before, Juma Tutu. Elani. Gogo Simo. All the way back to Barbara Guantai last November.
On the Thursday before today, Dela carried the night. It's a lineup Kenya's finest artists alright.
A brief about today's artist: Makadem released his first studio album in 2007, under Ketebul Music record label. The album is called Ohanglaman. Makadem uses that title for his name as well. Makadem Ohanglaman.
Makadem has graced the stage in several African music festivals. The most familiar of these festivals – Bayimba (in Uganda) and Fest'Horn (in Djibouti) – is Sauti Za Busara (in Zanzibar). Sauti Za Busara is familiar to me because last February, a band I reviewed represented Kenya in this annual Stone Town festival. Ricky Na Marafiki, remember them?
Makadem sings mostly in jang'o. Or Luo Benga, as the cultured non-Kenyans label it.
On this Thursday night, Makadem is flanked by three chaps. They are a band dominated by dreadlocks, muscles, fleshy nostrils and ill-fitting garments. None of them smiles.
To Makadem's far right, is a chap on the drums. He wears a tight dress shirt with a print that makes the first word spring to mind when you first see it "Honolulu". A cowry shell dangles on a lone dreadlock and pastes itself on his forehead.
The guy next to him is in a baseball hat and white t-shirt with the words 'New York' sprawled across his chest. His muscles threaten its seams. The map of Africa hangs on a gold chain around his neck.
Their African drums are held captive between their thighs.
To Makadem's left is a chap in a shapeless jacket, blue ragged jeans and brown chucks. He's on the acoustic guitar. He half leans, half seats on the high stool behind him.
Makadem, the main man, is in a jumpsuit that is a patchwork of little square fabrics dipped in primary colours then hand-stitched together. On his feet, trainers. A do-rag holds his dreadlocks away from his face.
Wardrobe, I decide, isn't this band's priority.
In the two hours he was on stage, Makadem punctuated his performance with the acoustic guitar, the kalimba and the nyatiti.
Makadem plays his instruments with his eyes shut, and sings eyes open. His vocals carry a pace and pitch that doesn't stray too far song in, and song out. All through the evening, the only way to tell that he had sang a song to its end was when he switched between his instruments.
I don't understand the jang'o he mostly sings in, but I understand the feeling of what he sings about because it pulsates through my bones. It's a feeling that stays with you long afterward.
Later in the evening, a bird called Achieng (or someone with that nameface) joins him on stage for a duet. He accompanies this with the nyatiti. The pair mellows the mood down in the bar. Still, his band refuses to smile.
As I mentioned earlier, I have been to Choices several Thursdays over the last six months scouting for a story. And I have always left without a story. It was on this Thursday night – watching Makadem with his unsmiling band in performance – that I realize what had happened to have me leave Choices so: I have been approaching Choices and Thursday Nite Live with the wrong hat.
Let's back up to how it all goes down: You receive the email invite on Monday. Thursday gets here and you make your way down to Choices. You check in, have your double or whatever it is that floats your boat. You wait for an hours delay. The DJ plays filler music, conversations are afoot. Abdi Rashid takes the stage to introduce the band. He never apologizes for their delay. You listen to the band. You don't dance on a regular night, only the white folk are allowed to dance. You don't sing along either, the lyrics make no sense. You don't ask for an autograph or for a photo with the band. Again, only the white folk are allowed to. You buy the bands' album, if it is being peddled that night.
And when it gets to 11PM, you get up from your stool. You shake Abdi Rashid's hand on your way out. And you leave.
You do this the next Thursday. And the next Thursday after that. And the Thursday after. It's a band-night routine with the only variable in the equation being the band itself. A different band every Thursday night with a two-hour stage performance isn't enough material to work with.
So it wasn't that there was no story here to write about. It was that I come to Choices with the wrong hat on: Choices isn't a bar whose band you scout to review. Choices invites you to share the evening with its band. To share the music with the band. Period.
Have the right hat on the next Thursday you are down there.
*
I leave you now with photographs from the gig. Photos are by Paul Munene of Quaint Photography. (Make sure to like his Facebook fan page.) http://on.fb.me/1iimqbc
Photo credits: Sarabi's Kenya@50 Thursday Nite Live performance//Paul Munene of Quaint Photography
0